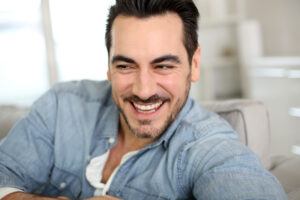 When you undergo treatment for a cavity, you can count on treatment to protect your tooth. However, you may worry that the presence of your filling or crown will interfere with your smile, leaving you feeling less than confident about treatment. Our Maple Grove, MN dentist's office is prepared to help you enjoy restorative dental work that is discreet as well as dependable. For patients who require dental fillings, we can use a special resin material that protects your enamel while it also imitates it. Even if your cavity forms in an area that is hard to overlook, you can count on treatment to preserve your appearance.
Can You Really Count On A Lifelike Filling To Address A Cavity?
Dental fillings can be made from different substances, some of which can offer durability but lack a lifelike appearance. At our practice, we can help patients enjoy functional and cosmetic benefits from care by using composite resin material to provide fillings. Because this is the approach that we take, we can restore your oral health and ensure you are still able to bite and chew without difficulty while we also make maintaining your smile a priority.
What To Expect From Restorative Treatment
The way we approach restorative treatment is determined by what state your tooth is in when you come to our office. Timing matters when it comes to restorative dental work; if you schedule regular dental exams, you are more likely to have a cavity caught before there are complications we have to resolve. For many people, treatment can be completed in just one appointment. After clearing away the decayed tissues and addressing bacteria, we can cover the damaged portion of your enamel with your resin filling. The material hardens after being applied; once it does, the filling can hold up against many years of friction from biting and chewing to keep your tooth safe.
Addressing An Advanced Cavity
If you do have an advanced cavity, there are different actions that we can take based on your needs. It may be necessary for us to provide root canal treatment to address an infection that has formed. Once this is done, we can place a dental crown over your tooth in order to keep it safe. Because a crown covers a larger area and requires more preparatory work than a filling, it is something we only recommend for use when a filling will not be able to adequately protect you.
Talk To Your Maple Grove, MN Dentist About Treatment With A Lifelike Filling
With a lifelike dental filling, we can restore your tooth without changing your smile. If you would like to learn more about how we can help you deal with cavities and other oral health threats, reach out to Elm Creek Dental in Maple Grove, MN, today at 763-416-0606.