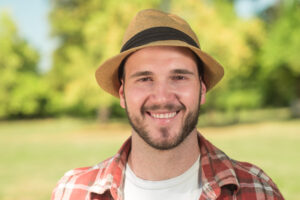 Cavity treatment provides two important services, as it both stops spreading decay and addresses the permanent damage to your tooth structure. At our Maple Grove, MN dentist's office, we can make sure that your treatment keeps your tooth safe without altering its appearance. This is possible because we can provide both dental fillings and dental crowns that successfully imitate healthy enamel. The fillings we provide are made from a composite resin material that can match the look of your enamel and bond to it as well, providing lifelike support as well as dependable long-term protection.
Your Cavity Treatment Can Take Place Without Altering Your Smile
Restorative dental work protects teeth so that you can smile, bite, and chew without difficulty. For a cavity treatment, we both remove the decayed area and place a restoration to address the loss of this material. You may worry that a cavity in a visible area will hurt your appearance and make you self-conscious about how you look after your procedure. Fortunately, your treatment can proceed without making a permanent change to the way you look. With a composite filling, we can treat you with a material that both imitates and bonds to your tooth structure to provide cosmetic and functional support.
Receiving A Filling Made From Composite Resin
A dental filling made from composite resin can provide long-term benefits for your tooth's health and appearance. By keeping a vulnerable area safe, your restoration prevents new problems from occurring. The stability it provides will enable you to bite and chew without difficulties. Because the material is a good cosmetic match, its presence will not alter your smile, even if the filling is in a more prominent area.
What If My Tooth Needs More Protection Than A Filling Can Offer?
You may require more protection than a dental filling provides in order to address a severe cavity. By securing the tooth with a dental crown, we can offer more functional support while still keeping your smile attractive. Both zirconia and porcelain crowns make it possible for us to provide functional and cosmetic benefits. For back teeth that are difficult to see and responsible for absorbing more pressure when you bite and chew, we can recommend a metal or porcelain-fused-to-metal crown.
Talk To Your Maple Grove, MN Dentist About Treatment With A Filling
Dental fillings provide important protection for vulnerable teeth while still preserving your appearance. Our practice is ready to take on your needs when you have active decay, but we also provide important ongoing preventive support so that you avoid future problems. If you would like to find out more about our practice and services, reach out to Elm Creek Dental in Maple Grove, MN, today at 763-416-0606.