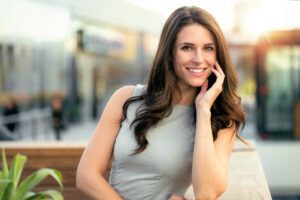 Your smile should be something you are proud to show off. Our teeth tend to be a prominent feature; while this can help a dazzling smile stand out, it means that flaws can draw an uncomfortable amount of attention. Fortunately, the right cosmetic procedure can help you. At our Maple Grove, MN dentist's office, patients who have issues with the way they look can learn about the advantages to services that focus on improving the way you look. One option is to use porcelain veneers to cover issues with discoloration, wear and tear, and even concerns about poor spacing. These restorations are durable enough to hold up for many years, but they are thin enough to stay in place while only requiring minimal changes to your enamel.
Are You Embarrassed By Smile Flaws?
Even minor problems with your smile can attract undesired attention, making it hard to ignore the effect that they have on your overall appearance. Chips, cracks, and other signs of wear and tear, along with dental discoloration, can negatively affect your appearance over time. Naturally occurring flaws with your tooth shape, size, and spacing can also make trouble for the way you look. These different issues can be resolved with just one cosmetic dental procedure. With the placement of porcelain veneers, you can see welcome results in one appointment even if there are multiple flaws that concern you.
Placing Porcelain Veneers To Improve Your Appearance
With custom porcelain veneers, our practice can take care of many different concerns about the way you look when you smile and speak. These restorations are placed over the front surfaces of teeth. They preserve much of your healthy enamel, but they can still cover enough space to hide flaws from view. The process of placing them calls for two appointments. At your initial visit, you will undergo a review of your teeth so that we can take measurements needed to provide personalized restorations. You can also enjoy minor preparatory work to make room for your veneers when they are ready. At your second appointment, your restorations will be permanently placed. At this point, you can marvel at how much your appearance has changed, and you can look forward to showing off these improvements in the long term!
Talk To Your Maple Grove, MN Dentist About Veneers!
At our Maple Grove, MN dentist's office, patients who want to change the way they look can inquire about the advantages of treatments with porcelain veneers! This one service is capable of making improvements to your smile by hiding discoloration, dental damage, problems with tooth shape and size, and more concerns. Because this is one of several cosmetic procedures we offer, we can help you enjoy a personalized approach to care that delivers long-term benefits. If you would like to find out more, please reach out to Elm Creek Dental in Maple Grove, MN, today at 763-416-0606.