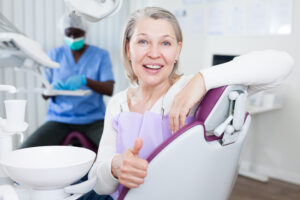 If you have a cavity, you need to have it treated if you want it to stop posing a threat to your tooth and oral health. Once decay is severe enough to make treatment necessary, there is not a way for you to halt or reverse the damage that has been done to your enamel. However, you can minimize the harm this problem causes when you see your Maple Grove, MN dentist promptly for restorative dental work! The sooner you do, the sooner you can put and end to this threat and avoid potential complications.

Cavities Continue To Grow Until They Are Treated
With your daily oral hygiene routine, you can stop cavities from forming. Brushing and flossing will remove the buildup of bacteria on the surfaces of teeth so that they do not have the opportunity to damage your enamel. When that damage does occur, it can lead to the formation of a cavity, which your tooth cannot naturally heal. Until the appropriate restorative dental work is provided, it will continue to grow.
The state of your cavity at the time of treatment will affect how your dentist proceeds with your care. If the issue is caught in time, you can be fine after the placement of a dental filling. However, if you have a severe cavity, you can require a dental crown, and you may need to undergo root canal treatment.
Dealing With A Severe Cavity
If enough time passes, dental decay can do serious harm to your oral health and tooth structure. Eventually, that harm can leave you exposed to an infection as harmful microbes pass through your enamel and reach your pulp, the location where a tooth's living tissues are housed. A root canal will have to take place to address this. Once this procedure is performed, a dental crown can be set to cover the tooth. A crown requires more preparatory work than a filling, which means you lose more of your overall tooth structure. Fortunately, the presence of this restoration can fully preserve your appearance and bite function!
Treating A Cavity Caught Early
If you regularly see your dentist for routine services, you can receive timely warnings about dental decay. This can lead to the restoration of your tooth with a discreet dental filling. A dental filling only covers a limited portion of your tooth, leaving the surrounding structure unchanged. This work can be completed in just one appointment, so you will not need to wait to see the necessary improvements to your oral health.
Talk To Your Maple Grove, MN Dentist About Cavity Treatment
Through the appropriate cavity treatment, you can count on lasting protection for your tooth, and a resolution for potentially painful issues with an infection. If you would like to find out how we can help you preserve your smile and well-being, please reach out to Elm Creek Dental in Maple Grove, MN, today at 763-416-0606.