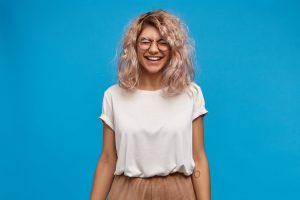 If you have noticeable issues with malocclusion – poor teeth spacing – you may have a difficult time sharing a confident smile with the world. Until you deal with this problem, you can find yourself hiding your teeth from view as much as possible. By learning more about your orthodontic treatment options, you can discover that discreet corrective work is available to you. At our Maple Grove, MN dentist's office, we can talk to you about different orthodontic appliances, including Invisalign aligners, that can address problems with teeth spacing. In some cases, we may be able to hide minor gaps or overlaps by providing cosmetic dental work.
Do You Have Concerns About Teeth That Are Not Properly Spaced?
Even if your teeth spacing issues are not severe, they can be an unwelcome distraction that hurts the quality of your smile. In many cases, these are problems that discreet orthodontic appliances can correct. What that means is that you can close gaps between teeth, or straighten out crowded spaces, in order to show off a more symmetrical and attractive appearance. You can even find that the right approach to your corrective work can deliver results in less time than you anticipate!
Using Clear Aligners To Improve Your Appearance
With Invisalign aligners, we can gradually and carefully move your teeth into position using a series of clear aligners. We also provide treatment options in the form of Red White And Blue (RWB) Aligners, a system for people with milder alignment issues who want to see improvements in a shorter time. Because these aligners are also made from a clear material, they can be worn without attracting unwanted attention. Another option for people who want to enjoy results without a long wait is the Six Month Smiles treatment. This approach uses clear brackets and wires to maneuver teeth quickly and discreetly, and are able to reduce a process of realignment that can take up to 18-24 months to just six months!
Using Cosmetic Dental Work To Address Smile Gaps And Overlaps
Is it possible to simply hide smile gaps or overlaps with cosmetic dental work? The advantage to doing so is that you can see results in just one or two appointments, instead of over the course of months. With porcelain veneers, we may be able to hide alignment issues after two visits, which means you have even less time to wait to start sharing the smile you want with the world.
Talk To Your Maple Grove, MN Dentist About Orthodontic Work
Through the right approach to orthodontic treatment, you can see exciting smile improvements in a surprisingly short time! To learn more about the different approaches that we offer, please call Elm Creek Dental in Maple Grove, MN, today at 763-416-0606.