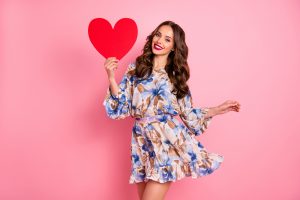 This Valentine's Day, we at Elm Creek Dental think that you should treat yourself to the smile of your dreams. We believe that everyone's smile should be something that they can be proud of, and we have the procedures available in our office to help any smile reach its healthiest, fullest, most beautiful potential. So, whether you are celebrating Valentine's Day with family, a loved one, friends, or by taking some hard-earned time for yourself, consider giving yourself a smile makeover, courtesy of your Maple Grove, MN, dentist. In today's blog, we will discuss the restorative and cosmetic treatments that we offer to improve your smile.
Restorative Treatments Offered
At Elm Creek Dental, we understand that everyone's smile story is different. Whether you have lost parts of your smile to decay or gum disease, or experienced a dental emergency like a major crack or break in a tooth, we offer treatments to restore the integrity of your smile. Our procedures include:
Tooth-Colored Fillings
Root Canal Treatment
Tooth Extraction
We know that a smile with gaps can be a source of embarrassment, but you will not be judged for your current dental health in our office; we will be happy that you are taking the steps towards a healthier smile. No matter your issue, we can help you meet (and possibly exceed) your smile goals.
Cosmetic Treatments Offered
For dental issues that aren't structural, but still affect the overall quality of your smile, we at Elm Creek Dental offer several cosmetic procedures that can help to improve the look of your smile. These procedures include:
Tooth Bonding
Tooth Contouring
Gum Contouring
Porcelain Veneers
We understand that the look of your smile informs your confidence, and we believe that everyone deserves to be confident and happy with their smile. So, whether you have issues with yellowing and stains, uneven length, chips, cracks, gaps, jagged edges, or slight misalignment, we have the cosmetic solutions to your problems.
Finding Your Perfect Treatments
When you come to Elm Creek Dental for a smile makeover, Dr. Carter will consult with you and conduct an oral exam to determine the best treatment options for your unique smile needs. In some cases, we may be able to use one treatment to fix several issues, such as using porcelain veneers to cover stains, lengthen teeth, and fill gaps all at one time, or to combine treatments into one visit, such as tooth bonding and contouring at the same time, to allow for fewer office visits. Our goal is to reach your goals for your smile, and to do so effectively and with as little hassle as possible for you.
Ready to Treat Yourself?
If you are ready to make over your smile, don't wait! Schedule a consultation with us today to kick-start your smile health and be on your way to a gorgeous smile. To learn more about our treatments, contact our team at Elm Creek Dental in Maple Grove, MN, by calling 763-416-0606.