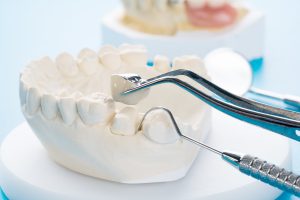 During the course of your regular dentist appointments, your dentist may notice a small oral health problem developing. Maybe it's a little cavity in the surface of your tooth. Maybe it's a swollen gum line that could use some flossing. These issues are relatively minor and can be addressed with quick in-office treatment and at-home care. Then there are some oral health issues that are much more significant. Cracked or chipped teeth; serious cavities and infected root canals can put your teeth in jeopardy of being lost for good. If you have teeth that are on the brink, a dental crown may be able to save them.
Dental Crowns Fit Over Teeth to Preserve Their Structure
A dental crown is typically made of metal amalgam or dental porcelain. In either case, the crown is fabricated to look like a natural tooth. The crown will fit over the base of your natural tooth to preserve the root structure that holds the tooth in place. Before fabricating your dental crown, your dentist will take precise measurements of the tooth being treated, as well as the surrounding teeth. This way, your dentist can be sure that your crown will fit comfortably alongside your other teeth and match the bite of the tooth opposite.
Dental Crowns Save Teeth That have Been Compromised
If a physical accident has caused one of your teeth to become cracked or severely chipped, a dental crown can repair the structure of your tooth. Teeth with structural damage are more likely to break or become infected, so you should treat them as soon as you can. If your tooth has become so infected that you need root canal therapy, a dental crown will typically be used to cover the tooth after this treatment. The same goes for teeth with cavities so severe that a normal dental filling isn't enough to repair them.
If Your Tooth Needs to Be Extracted, a Dental Crown Can Still Help
Some teeth can become damaged beyond repair. If your tooth is fractured internally, or infection has overwhelmed the tooth, a crown may not be able to save the natural structure. In these cases, your dentist will often recommend tooth extraction. Tooth extraction can remove damaged teeth that may pose an oral health risk for the other teeth in your mouth. Once your tooth has been extracted, you'll want a dental prosthetic to replace it. Dental implants are titanium posts that can be combined with dental crowns to replace missing teeth.
Receive Your Restorative Treatment at Elm Creek Dental
Restorative dental treatment can save teeth that would otherwise be lost to physical damage and bacterial decay. If your teeth are suffering, schedule treatment at Elm Creek Dental. We can determine the source of the problem and provide a restorative solution to repair your smile. Schedule your appointment at Elm Creek Dental in Maple Grove, MN by calling our office at 763-416-0606.