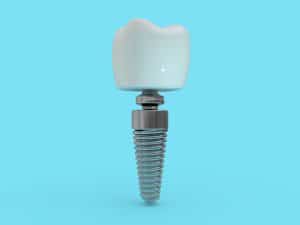 Tooth loss is a damaging experience, and not just for cosmetic reasons. Having a gap in your smile can be discouraging and upsetting, but tooth loss creates a much bigger problem than feeling shy in photographs. Tooth loss means the loss of your roots. While you can't see your roots from the surface and you probably don't often think about them, they are vital. The roots of your teeth are what allow you to chew food with confidence. When your roots are gone, you have to compromise on what you're able to eat. Choosing a dental implant after tooth loss replaces your roots.
A Dental Implant Is Surgically Set in Your Jawbone
How do dental implants recreate the effect of a tooth's roots? Implants are surgically placed in your jawbone, so they bond to the surrounding bone and hold fast in place. The process for receiving a dental implant will involve an initial consultation and measurements of your mouth. Then your dentist will carefully place the dental implant at the proper angle so that it fits alongside your teeth and restores your bite. After the implant heals, your dentist will add a dental crown to the top of the prosthetic to complete the fabricated tooth and give you an esthetic restoration.
Dental Implants Stand on Their Own
Dental implants are bonded to your jawbone, but they don't rely on your other teeth for support. This is what sets them apart as an option from other dental prosthetics. Dentures are an effective way to replace a large number of missing teeth, but these are usually fastened to your jaw with adhesive. That can mean slippage and a level of stability that doesn't compare to dentures. Dental bridges can replace a series of missing teeth, but they utilize your remaining natural teeth for support. A dental bridge is stable, but again, the bite power you experience isn't as good.
When a Tooth Is Unsalvageable, Choose a Dental Implant
There may be some oral health cases where you haven't actually lost a tooth, but the viability of your tooth is in question. If your dentist determines that your tooth is unsalvageable because of a crack, or damage to the roots, or a massive amount of infection, you may need to have the tooth extracted. In these cases, a dental implant can give you back the comfort and functionality that you experienced before tooth loss.
Discover Dental Implant Options at Elm Creek Dental
Tooth loss can be frustrating, but it doesn't have to be a permanent obstacle. Dental implants provide a long-term solution that will restore your smile and the power of your bite. If you want to learn about your dental implant options, schedule an appointment at Elm Creek Dental. Our team will walk you through the process and answer any questions you may have. Schedule your implant consultation by contacting Elm Creek Dental in Maple Grove, MN at 763-416-0606.