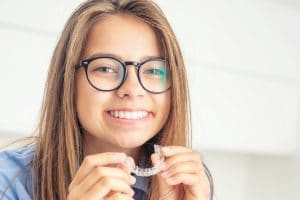 Everyone feels more comfortable with low-impact dental treatments. When you can be assured that your treatment timetable won't be too long or too uncomfortable, you're more likely to move forward with a particular procedure. Braces can get a rap for being uncomfortable, and coming with a lengthy treatment time table. In some cases, traditional braces are the right tool for the job, but many minor cases of misalignment can be corrected with invisible aligners, which are significantly more comfortable. Are you a candidate for invisible aligners?
Invisible Aligners Are Made of Plastic and Easily Removed
The most frustrating thing about traditional braces is how permanent they feel. Hard metal wires and brackets are uncomfortable in your mouth, and they aren't exactly malleable. They're like that for a good reason: They use consistent pressure to push or pull your teeth into alignment. However, not all cases of misalignment need such a heavy-duty solution. Invisible aligners are made of plastic and can easily be removed from your mouth when you eat foods or when you need to clean the aligners. This creates significantly less overhead for you during treatment.
Low Impact Aligners Reduce Chances that Your Teeth Will Be Damaged
The comfortable plastic of invisible aligners is also easier on the enamel of your teeth. Since invisible aligners aren't bonded to the surfaces of your teeth, they're less likely to do any damage to the enamel during treatment. Traditional braces sometimes leave behind scratches on the surfaces of teeth, or they'll create discoloration where the brackets were bonded to the teeth. Choosing a gentler treatment option with a shorter timeframe will allow you to feel better about the safety of your teeth.
Invisible Aligners Don't Work for All Cases of Misalignment
Not every case of misalignment can be fixed with invisible aligners. While this treatment option does offer some advantages over braces, you may still need to use a more traditional treatment for your teeth. Children with developing structures need traditional braces to correct for developmental issues with their alignment. Additionally, if your misalignment is severe, invisible aligners may not be right for the job. You should talk to your dentist or orthodontist about invisible aligners and their potential to give you a straighter smile.
Inquire About Invisible Aligners at Elm Creek Dental
If you're an adult who wants a straighter smile, it's time to explore invisible aligner options. You may not need the two-year treatment timetable that can come with traditional braces. Schedule a consultation at Elm Creek Dental to see if the treatment is right for you. You can make a consultation appointment by contacting Elm Creek Dental in Maple Grove, MN at 763-416-0606.