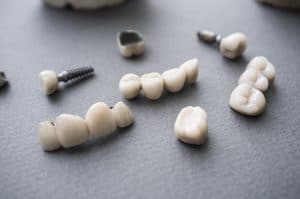 Tooth loss can be a frustrating, debilitating problem. Missing teeth affect both your smile and bite. You want to feel confident in the appearance of your teeth. You also want to be able to chew and enjoy your favorite foods. What can you do to combat tooth loss? There are actually plenty of modern dentistry options that prevent tooth loss from becoming a lifelong problem. One such option is a dental implant. Due to their nature, dental implants are a sturdy, long-term solution to tooth loss. Here's how dental implants are here to help you get your teeth — and your confidence — back.
Dental Implants Are Unparalleled in Durability and Stability
Since tooth loss can create such a hassle, you want your solution to this problem to work in the long term. Dental implants are created with biocompatible screws that are inserted in place of the missing teeth during a surgical proceeding. Because they are surgically inserted, your implant will last longer than other restorative options. Furthermore, dental implants can actually fortify your jaw bone and prevent degeneration.
Implants Fit Seamlessly Into Your Mouth
Dental implants offer a stable base for a restorative option. A custom-made treatment like a crown can fit onto your dental implant and offer a total replacement for your missing tooth. By matching the color and shape of your teeth, your dentist can create a restorative option that fits seamlessly into your mouth. At the end of the day, the goal of a procedure like a dental implant is to return your mouth to its best and brightest.
Time to Explore Options for Dental Implants?
Residents in Maple Grove can trust Dr. Carter and the Elm Creek Dental staff with all of their dentistry needs. If you're missing a tooth, it's time to explore replacement options like a dental implant. Set up an appointment today to learn more about your options and restore your smile. Contact the Elm Creek Dental office in Maple Grove, MN at 763-416-0606.