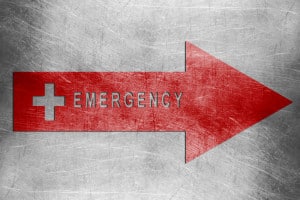 Emergencies are not only extremely inconvenient; they often require immediate treatment from a medical professional. Are you confident that you would correctly handle an emergency situation involving your mouth? Do you know what steps to take that could help prevent a disaster? A dental emergency can be any type of trauma or extreme discomfort involving your oral structures, including your teeth, jaw, and throat. Visiting your dentist may be the best decision to make during a confusing and possibly painful situation.
Try to Remain Calm
In any emergency-type situation, it is invaluable to keep a level head, and try to stay as calm as possible. You will need to assess the extent of your injury, and determine if immediate attention is required. Large amounts of blood loss, or inability to slow bleeding, is an indication that 911 may need to be called. Common dental emergencies include:
Broken, chipped, or cracked teeth
Knocked out, or dislodged teeth
Objects stuck between or on top of teeth
In the Mean Time…
If your dentist is unable to see you right away, and feels that the situation does not require an emergency room visit, you can take over the counter pain medicine to stifle your discomfort. Applying an ice pack near the injury may also help reduce pain and swelling. For a broken tooth, try to collect all the pieces and store them in an air-tight container. Be sure to bring the tooth fragments when you visit your dentist. If your tooth has been completely dislodged from its socket, gently rinse it under water to remove debris (but not tissue) and attempt to place it back into your gums. In many cases, this may be too painful, and you can safely place the tooth in a glass of milk or hold it between your cheek and teeth to keep it moist until your dentist can complete an examination.
ABOUT YOUR MAPLE GROVE DENTIST:
To schedule an appointment at Elm Creek Dental in Maple Grove, MN, call our office today at (763) 416-0606. We proudly serve residents of Maple Grove, Brooklyn Park, Rogers, Elk River, Osseo, Otsego, Plymouth, Wayzata, and surrounding communities.