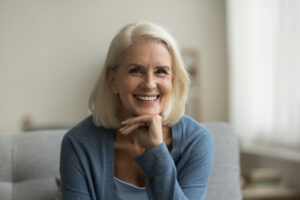 When we think about orthodontic treatment, it is often associated with teenagers and young adults. However, achieving a straighter smile is not limited to a specific age group. Thanks to advancements in dental technology, people of all ages can now straighten their teeth with ease. Whether you missed out on braces during your adolescence or have experienced teeth shifting in adulthood, it's never too late to attain a confident, healthy smile. At our dental office in Maple Grove, MN, we have various options available for achieving straight teeth at any age.
Clear Aligners
Clear aligners, such as Invisalign, have gained immense popularity in recent years and have become a sought-after option for individuals that desire a more discreet straightening solution. These custom-made, invisible aligner trays slowly move your teeth into a more ideal position. These offer the advantage of being removable, allowing you to eat, brush, and floss comfortably. They are particularly appealing to adults who wish to straighten their teeth without drawing attention to bulky metal braces.
In our office, we have 2 options for clear aligners. If you are a more complicated case you will benefit from Invisalign. If you need minor, cosmetic adjustments our Red White & Blue clear aligners will give you faster results.
Accelerated Orthodontics
This faster version of traditional braces uses clear brackets and wires instead of metal. This can be beneficial for adults looking to achieve faster results with better aesthetics. By reducing treatment time, accelerated orthodontics allows you to achieve a straighter smile in a shorter period. Six Month Smiles can your teeth straight in six months instead of the typical 12 to 18 months. Not everyone is a candidate for accelerated orthodontics, so at your consultation, we will carefully assess your situation and goals.
Schedule An Orthodontic Consultation Today
With the advancements in orthodontic technology, achieving a straighter smile is now a viable option for individuals of any age. So, consult with us so we can guide you in choosing the most suitable treatment option for achieving the smile you've always desired. To learn more or to schedule a consultation, give us a call at Elm Creek Dental in Maple Grove, MN at (763)416-0606!