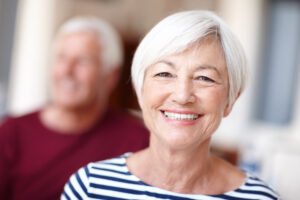 If you have recently been given a diagnosis requiring the extraction of one or more of your teeth, it is time for you to look at your prosthodontic possibilities. Or if you have an unsightly gap that you are tired of seeing, talk to your dentist about your options in repairing your smile after the loss of a tooth. One of your tooth replacement options gives you an unparalleled connection between your jaw and a prosthetic tooth, so learn about the advantages of replacing that missing part of your smile.
At our dental office in Maple Grove, MN, we can help you to renew your smile after tooth loss, so talk to our team about the benefits of a dental implant. This method uses a durable titanium post to give you a lasting restoration with a bite you can trust. If you need the replacement of multiple teeth, ask your dentist about the versatility of dental implants, as well. From single-tooth solutions to a full new set of implant-retained dentures, a brighter dental future is here!
When You Lose A Tooth, Learn About How A Dental Implant Can Help
The loss of a tooth can feel disappointing, but talk to your dentist about all of your options in finding a lasting replacement that looks gorgeous. A dental implant is one of these possibilities, and this technique is quickly becoming one of the most popular forms of oral health improvement. This method uses a durable titanium post to hold your custom prosthetic tooth!
Titanium has a special property that allows it to stay within your jaw, without your body trying to force it out as a foreign object. This means that your jaw can grow snugly around your dental implant post, creating a secure connection that can give you a strong bite!
Dental Implants Can Be Helpful For A Variety Of Tooth Loss Circumstances
Tooth loss isn't always just losing a single tooth, you may have a gap of two or more teeth that you need to replace. This method is certainly helpful for those missing a single tooth, but a new dental implant prosthetic can be beneficial in more, as well. When you need a versatile prosthodontic solution, talk to your dentist about whether a dental implant is right for your unique tooth loss situation. Dental implant technology is even use to create implant-retained dentures, giving the strength of a titanium post for a whole-mouth solution!
Talk To Elm Creek Dental In Maple Grove, MN About Dental Implants
When you need to replace a piece of your smile that you have lost, talk to our team about how dental implants can help. To learn more or to schedule a consultation, give us a call at Elm Creek Dental in Maple Grove, MN at (763)416-0606!