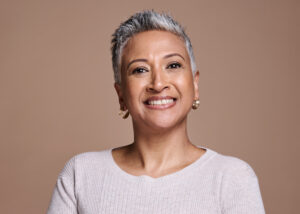 The extraction of a tooth is sometimes necessary for the lasting vitality of your oral health. While the goal typically is to keep your natural teeth in place, they may pose risks for the future of your smile. If this is the case, it may be better to remove this structure in order to preserve your lasting dental wellbeing. It is important to remember that you have options in your prosthodontic repair after your extraction procedure.
At Elm Creek Dental in Maple Grove, MN, we give you options in the replacement of one or more of your natural teeth. A dental bridge is a form of prosthetic that relies upon support from the teeth on either side of your gap. Another form of repair is a dental implant, which derives its stability from a titanium post. Your bone matter within your jaw grows snugly around this post, giving you a foundation for an elegant custom new tooth. Take care of your particular smile needs with prosthodontic repair to restore your bite function and stay beautiful!
Dental Bridges Share The Stress Of Chewing
One helpful method of prosthodontic repair is the use of a dental bridge. This process uses the support of your existing natural teeth to hold a prosthetic to cover the gap. If your remaining teeth are healthy, this could restore your bite function with a life-like appearance. Bridges can last for years with proper cleaning and maintenance. As with any prosthetic tooth replacement solution, you will need to care for this location.
The Scientific Breakthrough Of Dental Implant Technology
Another form of tooth replacement is a dental implant process. This technology starts with a biological mechanism known as osseointegration. Titanium has special properties that trick your immune system into recognizing the metal as if it were part of your own body. Osseiontegration allows the bone to grow up against the metal and creates a tight bond.
After recovery, your new post can hold a new prosthetic tooth that can withstand the rigor of daily use. Additionally, this replacement can be replaced if it becomes damaged. There is a specific versatility that comes with dental implants!
Your Prosthodontic Solution In Maple Grove, MN
The replacement of your natural teeth with prosthetics is an important decision. Learn more about the possibilities available for your smile with checkup and discuss your needs with your provider. Call Elm Creek Dental in Maple Grove, MN, today at 763-416-0606 to schedule a consultation or to learn more about your options. Dental bridges provide support from your existing natural teeth in order to share the strain of chewing. Dental implants provide stability through the use of a biological mechanism known as osseointegration. Make your extraction the beginning of a renewed sense of oral health determination!