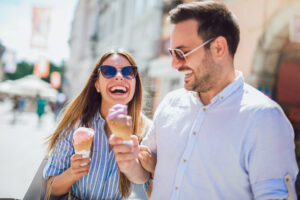 If you have started to notice that your smile is becoming a little less bright as you age, it could be a result of stains on your enamel. This common cosmetic concern can put a real damper on your smile appearance, and even if you try to avoid artificial coloring in the things that you eat and drink, you can still wind up with discoloration. In fact, some of the healthiest fruits and vegetables can leave you wanting to see a refresh to the appearance of your smile!
With our team of cosmetic dentistry experts in Maple Grove, MN, you can take positive steps to lift the shade of your smile with a simple at-home whitening treatment. Start your journey toward a more attractive smile with a cleaning and examination, and while you are in the office, talk to your dentist about your options in teeth whitening. With our easy kit, you can achieve a brighter smile in as little as two weeks while having a course of treatment that is given to you by a trusted oral health professional. Keep your enamel strong while whitening with the help of a talented dentist!
Enamel Stains Happen To The Best Of Us, So Talk To Your Dentist
For some patients, developing enamel stains can feel like a failure of your oral health maintenance. While we certainly support thorough brushing and flossing, sometimes enamel stains can happen to people who are dedicated to their dental care. The most important thing that you can do is to speak with a trained dental professional about your options in treatment, so schedule your next appointment for a cleaning and examination.
During your semiannual dental checkup, your provider will help you to understand the causes of your discoloration. If you receive a diagnosis of extrinsic enamel stains, it is time to talk about your choices in lifting the shade of your smile!
Discover The Advantages Of A Private At-Home Treatment For Teeth Whitening
When you need to brighten your smile, talk to a professional about all of your options in cosmetic dental treatment. Our team offers a more private solution with at-home whitening kits that start with an examination. Be sure that you keep an eye on the strength of your enamel throughout the whitening process, and see results in as little as ten days with our cosmetic whitening treatment!
Ask Your Dentist About At-Home Teeth Whitening From Elm Creek Dental In Maple Grove, MN
If you have been searching for a way to refresh your smile, talk to your trusted dental professional about your options in teeth whitening. For more information or to learn more, give us a call at Elm Creek Dental in Maple Grove, MN at (763)416-0606!