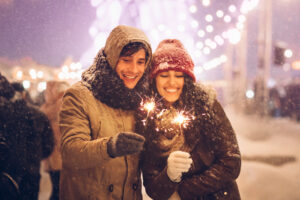 As this year comes to a close, it is that time when we take stock of the good and the bad. The start of January allows us also to take what we have learned and make a positive change for our lives. Resolutions can be a fantastic way to improve your life with a measured approach. It is important to set achievable yet bold goals in the ways you look to advance over the next year.
Our oral health can be a great way to use the new year as a springboard. If it has been a while since the last time you have seen a dentist, you are certainly not alone. Patients can let this become a barrier in and of itself. Do not become discouraged and overwhelmed at the prospect of a routine checkup and cleaning. These examinations can help you to avoid future harm, so waiting can allow your concerns to progress. Schedule an appointment at Elm Creek Dental in Maple Grove, MN today and plant your first step in your oral health path!
The Benefits Of Dental Experience
While we are huge fans of routine oral health maintenance, your daily regimen is not enough to keep your smile operating safely. There are simply things that we cannot do on our own either due to location or the process itself. For this reason, you should be seeing a dentist at least twice each year to ensure that you keep up with your oral health and catch issues early.
Time can get away from all of us and the new year can be a great time to pick up where you left off. If it has been a while since the last time you were in the dental chair, do not put it off any longer. There could be infection building in the recesses of the mouth. A trained set of oral health eyes can spot troublesome situations early, which can allow for the safety of your enamel and gum tissue.
The Importance Of Examinations
As one of the first lines of defense, routine cleanings and examinations can help you to keep your existing biological material safe. This simple process can allow you to address dental concerns before they become an emergency. For instance, when you leave a cavity for too long, the infection may travel into the interior of the tooth. This situation can be incredibly painful and require a root canal.
Your Dental Protection In Maple Grove, MN
To schedule an appointment, or if you have any further questions, please call Elm Creek Dental in Maple Grove, MN, today at 763-416-0606. Your oral health matters, so take it seriously!