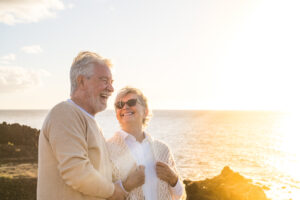 One of the most common dental issues is a failing tooth. Whether this has been lost to trauma or you require a surgical extraction, this can be a stressful situation without the proper guidance and care. Our Maple Grove, MN dental office is proud to focus on positive replacement solutions that can go beyond simple restoration. Keep your smile looking gorgeous and feeling great with a prosthodontic replacement procedure.
There are a few different avenues to the restoration of an area of tooth loss. Dental bridges are a tried-and-true method of prosthodontic repair that spreads stress across the healthy teeth near the location. Partial dentures are a custom solution that can help bring a more creative repair to your smile. In addition, biointegrated dental implants are a technologically advanced solution that can bring new strength to your existing bite. This relies upon a threaded titanium post and is designed to grow closer with your body over time!
A Dental Bridge Solution
One reliable way of restoring a site with a lost tooth is through the use of a dental bridge. This procedure relies upon two crowns placed on the healthy teeth on either side of the gap. A prosthetic replacement then covers these structures and the gap with a life-like renewal.
This process can help you to bring back balance to your bite. When we favor one side of the mouth, we can overly wear the healthy areas, leading to further harm. A dental crown could be a great fit for your situation, as well as bringing a renewed vigor to your bite.
A Custom Partial Denture
For patients that have more unique tooth loss than a bridge is capable of repair, a partial denture may be a great way to keep your smile functioning and looking great. These prosthodontic attachments can help in situations where the teeth near a gap may not be healthy enough to support the placement of crowns. Instead of adding to the stress, talk to your trained oral health provider about the possibility of a partial denture in your smile restoration!
A Fantastic Implant Future
One of the most popular forms of smile enhancement in the United States is the dental implant. This procedure uses a threaded titanium post to the jaw in a snug way that can support the functions of chewing and biting. Through the process of osseointegration, our bodies connect to this material in a unique way that builds strength for the future.
Your Prosthodontic Needs In Maple Grove, MN
The loss of a tooth does not have to be the end of the story. Call Elm Creek Dental in Maple Grove, MN, today at 763-416-0606 to schedule a consultation and discover the possibilities available in replacing dental loss. We look forward to seeing you!