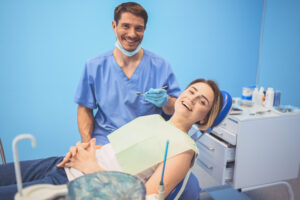 You may not realize just how beneficial your regular dental appointments are even at times when you have no cavities to worry about. These appointments provide information on the state of your smile, feature direct care from your hygienist to fight plaque and tartar, and address potential oral health complications that concern your bite function and periodontal health. Our Maple Grove, MN dentist's office is happy to meet with you and provide these regular updates about your oral health. Whether you are new to the Maple Grove area and need to find a dentist or need to return to regular appointments after a delay in care, we can help you find a path to consistent quality smile care!
Why Routine Dental Checkups Matter (Even When You Take Consistent Care Of Your Smile)
You should have a daily smile care routine that you are confident in, one that provides important protection for your teeth and gums on a regular basis. That being said, you should not look at your own efforts as an opportunity to "replace" professional dental appointments. Your routine visits offer you more than just a standard cleaning and inspection of your smile. These visits take care of problems like tartar buildup, which you cannot address on your own, and also provide feedback about any signs of poor health, not just cavities. Unless your dentist identifies a reason for you to pursue something different, you should make regular appointments on a semiannual basis.
What To Expect From Your Teeth Cleaning And Review
Both your cleaning and your review play important roles in managing your well-being. Cleanings provided by your hygienist will help you by removing the plaque and tartar buildup present on your smile. Without professional care for tartar formation, this harmful material would remain in place to threaten your oral health and cause potential embarrassment for your appearance. Your reviews with your dentist can provide timely warnings on problems with teeth that are affected by decay, as well as concerns about your jaw alignment and health, your periodontal health, and other issues that impact your oral health. The benefit to early detection is that treatment happens sooner, which means you are less likely to experience complications. When it comes to cavity care, this means restorative dental work takes place in time to limit the permanent damage to your enamel.
Talk To Your Maple Grove, MN Dentist To Schedule A Routine Checkup!
Through regular dental checkups and cleanings, you can remain informed about the state of your smile and enjoy protection against the various threats that your teeth and gums face. If you would like to learn more about us or set up an appointment, reach out to Elm Creek Dental in Maple Grove, MN, today at 763-416-0606.