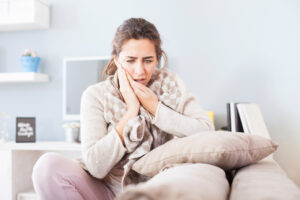 In a situation where you are in pain, or one where you worry you are at risk for losing a vulnerable tooth, emergency dental work can certainly be beneficial. Hopefully, you will never find yourself in need of it, but it is beneficial to know that you have access to oral health support on short notice. Our Maple Grove, MN dentist's office is prepared to help when urgent dental problems need to be managed. We can provide the appropriate treatment after an evaluation, one that addresses your well-being while still prioritizing care that preserves your appearance.
When Is Emergency Dental Work Needed?
There are a number of issues that can affect your smile in ways that call for emergency dental care. Physical injuries that damage, loosen, or knock out teeth can certainly call for attention on short notice. You can also require prompt care when you have significant dental pain, or when there is a problem with your filling or crown. In other words, whenever there is a problem that leaves you in pain, or one that seems to put your smile in a vulnerable position, you should reach out to schedule the appropriate services.
We Can See You When You Need Smile Care On Short Notice
When you need work done on short notice, our practice is prepared to see you and take care of you. Whether we need to address problems with a tooth, issues with a restoration, or problems with something wedged between teeth, we can promptly provide this support. Our approach to your care will be determined when we evaluate you and determine what kind of procedure is right for you.
Restorative Work That Preserves Your Smile
While there are some times when dental injuries can be addressed through cosmetic dental work, effectively caring for your vulnerable tooth can require more involved treatment. Does this mean the right treatment will be one that affects the way you look? While a dental crown completely covers your tooth, it can imitate your healthy enamel. That means it will not stand out when you smile and speak, even if it is in a prominent area.
Talk To Your Maple Grove, MN Dentist About Treating Your Dental Emergency
Unfortunately, there are times when dental problems are serious enough to require attention on short notice. This stressful situation can feel more manageable when you have a dentist you trust who can provide prompt treatment in these situations. Whether you need work for a dental injury or have problems with discomfort, we can see you and determine what procedure might be right for you. If you have questions about these services, or about any others that we can provide, reach out to Elm Creek Dental in Maple Grove, MN, today at 763-416-0606.