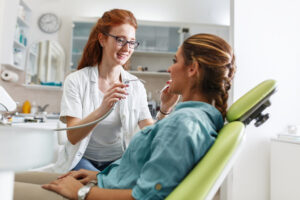 When you are not practicing the right oral health habits, you are more likely to experience problems that impact your appearance and well-being. You may be surprised at just how much harm a dental problem can do—complications from gum disease can lead to tooth loss and health issues, while a cavity can lead to an infected tooth that can lead to bacteria moving through the tooth and creating new problems. You should do your part at home to fight these problems by brushing and flossing consistently, and by making smart decisions about your diet. To further protect yourself, you should schedule appointments for dental exams and cleanings on a regular basis. Our Maple Grove, MN dentist's office is here to help by providing important preventive services during these visits. You should know that dental cleanings are an important part of these visits, as they help rid you of plaque deposits as well as tartar buildup, a material that you cannot remove on your own when your brush and floss.
How Do Dental Cleanings Protect Your Smile?
There are two important forms of care that are provided when patients come in for their regular dental exams. One is the examination itself, which will see your dentist look out for any problems that might need to be dealt with at the office. Another is the work of cleaning your enamel and removing different threats to your well-being. The teeth cleanings that take place during your regular exams will help you avoid trouble with your smile, as they remove both plaque and tartar that are present on your smile. Removing plaque is certainly helpful, but you gain even more benefit from work to clear away tartar, as these deposits resist removal during brushing and flossing. Your hygienist can take care to reach areas that are hard for you to access on your own, which can further help make sure that your smile is defended properly.
What Happens If A Problem Is Identified At A Checkup?
You can look forward to a preventive appointment where your dentist provides nothing but positive feedback, but you should be prepared for news about oral health issues that need to be addressed through restorative dental work. When they are present, we can recognize problems and discuss how they can be treated. In addition to dealing with cavities, we can provide support for periodontal care, poor jaw movement, and other issues.
Talk To Your Maple Grove, MN Dentist About Your Next Dental Cleaning
Through professional teeth cleanings, you can have support for your smile and enjoy less risk from problems like dental decay and gum disease. If you would like to find out more about how we can address your smile health needs, reach out to Elm Creek Dental in Maple Grove, MN, today at 763-416-0606.