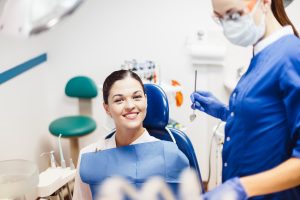 Are you concerned that you do not do enough to keep your smile healthy, even though you take care to clean your teeth each day? It is important that you do more than just care for your smile by brushing and flossing. Better diet choices matter, too, and so do your regular appointments for teeth cleanings and exams. At every routine visit, your Maple Grove, MN dentist's office can care for your smile by carefully and thoroughly removing any plaque and tartar buildup on your smile. These checkups, along with your daily efforts, help you effectively prevent difficulties with dental decay as well as gum disease!
Regular Exams And Cleanings Have An Important Role To Play In Your Smile Care
Professional dental checkups and cleanings play important roles in your overall efforts to protect your smile, even if you feel that you do a good job caring for your teeth at home. When you go in for your semiannual appointments, your dentist will evaluate you to determine if there is any need to perform dental work to address an active problem. You also enjoy a detailed cleaning to remove plaque and tartar buildup. Tartar removal is a particularly helpful benefit. While you can stop this material from forming by effectively keeping plaque buildup off of your teeth, tartar will remain until your next cleaning.
The Importance Of Fighting Tartar Buildup
Tartar accumulation is something that you can prevent. However, it is not a problem you can address when the material has already started to gather. Plaque deposits that you do not remove in time will harden and form this substance, which will increase your risk for dental problems over time. Fortunately, your hygienist can fight the buildup of tartar before this happens. Regular teeth cleanings provide this service, and they also give you important feedback to help you identify shortcomings in your daily routine that ought to be addressed.
More Services Provided During Your Regular Checkups
Regular checkups provide warnings about problems like tooth decay, gum disease, and other difficulties, such as unresolved issues with TMJ disorder. If you delay treatment for any of these issues, complications can occur. If we catch a cavity during your checkup, we can provide a discreet dental filling, a conservative restoration that only covers the space where decay formed.
Talk To Your Maple Grove, MN Dentist's Office To Schedule A Teeth Cleaning
Through regular teeth cleanings and evaluations, we can provide important protection for your smile. In addition to providing this support during a preventive visit, we also supply you with important updates about your oral health, as well as early intervention for any problems. To find out more, reach out to Elm Creek Dental in Maple Grove, MN, today at 763-416-0606.