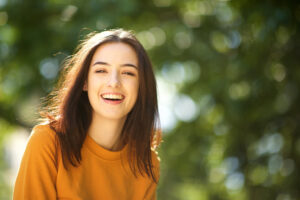 If you want to avoid new enamel stains, you should take care to adjust your diet and stay consistent with your smile care routine. Doing this can help you keep problems from worsening, but you can still have concerns about the present state of your enamel color. This is where your Maple Grove, MN dentist can step in and help you. By providing a personalized teeth whitening kit for you to use at home, we can help you fight embarrassing discoloration and make your smile appear brighter and more attractive. We are also here to support you if you have other concerns, including concerns about intrinsic discoloration.
Enamel Stains Can Be Tough To Remove On Your Own
It can be difficult to address problems with teeth stains, particularly stains that have settled over time. When you try to remove them on your own, you can see limited results, as store-bought products can lack the kind of potency needed to make your enamel notably brighter. However, this does not mean that you have to feel as though nothing you do at home can help. By picking up a professional whitening kit from your dentist, you can enjoy a convenient treatment that has a more noticeable effect on the way you look!
You Can Take Home An Effective Teeth Whitening Treatment
When you pick up a teeth whitening kit from our practice, you receive the materials needed to make enamel brighter by many shades. What makes this option an enticing one is that your dentist can provide bleaching agents that are stronger than the products that are commercially available. In addition to providing potent bleaching materials, we can supply you with a customized tray that will make the application of these materials easier. Over the course of daily 1-2 hour treatments, you can see progressive improvements, which continue until you have remarkable results to show off!
Using Another Approach For Your Discoloration
For some individuals, the right approach to fighting discoloration is one that focuses on hiding intrinsic problems. Changes within the tooth structure can hurt your appearance, but with treatment options like porcelain veneers and dental bonding, these flaws can be resolved. Services that address intrinsic discoloration can also resolve concerns that you have about problems with the shape, size, and alignment of teeth.
Talk To Your Maple Grove, MN Dentist About Using A Teeth Whitening Kit
Through the daily treatments you engage in with your take-home whitening kit, you can fight embarrassing discoloration and see meaningful changes to the way you look when you smile! If you want to learn more about this treatment option, or what else we can do to improve your appearance, reach out to Elm Creek Dental in Maple Grove, MN, today at 763-416-0606.