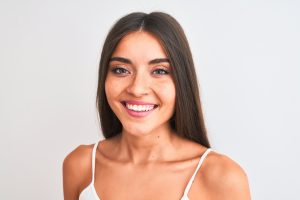 If you are ready to see real changes to your smile, your Maple Grove, MN dentist can help you. There are several cosmetic dental procedures available to you, and many different cosmetic concerns that we are prepared to address. One common concern for people is dental discoloration, which is often tied to problems with enamel stains. Rather than ask you to set aside time to go through an in-office treatment, we can provide a personalized teeth whitening kit that you are free to use in the comfort of your home. With this approach, you can take care of discoloration and see stunning improvements with a procedure that is easier to fit into your daily routine!
Are You Growing Concerned About Dental Discoloration?
Dental discoloration is a problem that can grow progressively worse as time passes, and it can be a frustrating one to try and avoid. Simply put, many of the products that we enjoy on a regular or even daily basis have the capacity to cause discoloration. Making changes to your diet can help, but you are still left with existing discoloration. Fortunately, this is something that can be dealt with through cosmetic dental work. A customized whitening kit supplied to you can give you the means to significantly brighten your smile!
Beginning Treatment With Your Custom Whitening Treatment
You will receive a custom whitening kit from your dentist that provides both bleaching gels and a set of trays that you use to apply the substance to your teeth. The whitening gels that we supply are designed to give you the results that you truly want, as they can offer greater improvements than store bought products. Daily applications over the course of approximately ten days can deliver improvements that you are eager to share with the world!
What Else Can I Do To Change My Smile?
Dental discoloration may affect many people, but that does not mean it is the only source of cosmetic anxiety that our practice can address. We also provide services that take care of dental damage, problems with teeth that are misshapen or damaged, and even issues with poor spacing!
Talk To Your Maple Grove, MN Dentist About Teeth Whitening Treatment
Through your take-home teeth whitening treatment, you can take on embarrassing dental discoloration and show off a better, brighter smile! Our Maple Grove, MN dentist's office is happy to provide a whitening kit to a patient who has concerns about the color of their teeth. You should know that we also provide different cosmetic services that address other problems with the way you look. If you would like to find out more, please reach out to Elm Creek Dental in Maple Grove, MN, today at 763-416-0606.