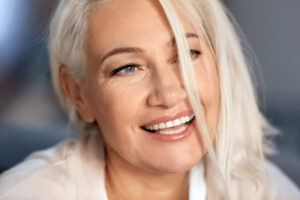 When a person has confidence in their smile, they can use it to light up a room, make strong first impressions, and generally feel more comfortable with their overall appearance. Unfortunately, it only takes one "minor" issue to take away that confidence. What should you do if you have doubts about your appearance because of a problem with dental damage, a misshapen tooth, problems with spacing, or another concern? There are different cosmetic dental procedures that our Maple Grove, MN dentist's office can provide. To directly target flaws and make changes through conservative treatment, we can recommend cosmetic dental bonding and contouring work. This can deliver results in just one appointment, and it minimizes the overall changes that take place to your tooth structure.
Even "Minor" Problems With Teeth Can Be A Big Issue For Your Appearance
Because your smile can be such a prominent feature, it can be difficult to keep people from seeing even small issues that make certain teeth stand out in ways that hurt your appearance. When you feel stuck with a cosmetic flaw, it can leave you with lasting doubts about your smile that are difficult to fully shake. By asking your dentist about how they can be treated, you can learn that cosmetic dentistry provides services that require little time to complete and only require conservative changes. Your option to proceed with dental bonding and contouring work can have you in a position to show off a stunning improvement after just one appointment!
Planning Cosmetic Bonding And Contouring Work
Depending on the number of teeth that you want restored, your tooth bonding and contouring work can be completed in as little as one visit to our practice. During your appointment, we will provide the necessary services to make sure your smile is free of any glaring issues. The contouring process helps by reshaping teeth and reducing them in size so that they look better. Through the bonding process, we can cover up discoloration, damage to your enamel, and other conspicuous issues that you would like to address.
Discussing Your Cosmetic Treatment Options
There are several cosmetic procedures that we make available to our patients. They include services like teeth whitening treatment, which will help you resolve problems with embarrassing dental discoloration. We can also talk to you about treatment with porcelain veneers, a set of durable restorations that can provide lasing benefits for patients who have problems with the way they look. While this service takes more time and requires more work than bonding and contouring, you can have an easier time preserving the results of your procedure thanks to the durability of your restorations.
Talk To Your Maple Grove, MN Dentist About Cosmetic Bonding And Contouring Work
Through the right cosmetic treatment, you can see remarkable smile changes that you are excited to show off to the world! If you want to discuss tooth bonding and contouring or any other service we offer, reach out to Elm Creek Dental in Maple Grove, MN, today at 763-416-0606.