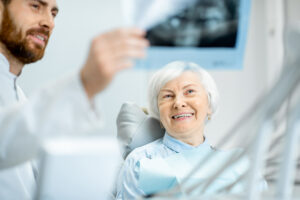 There are times when dental work will take more than the placement of a filling. To properly protect your tooth, it can be necessary for your Maple Grove, MN dentist to place a custom dental crown. What makes these approaches to care different is that while a filling covers the site of enamel decay, a crown will completely surround your tooth above the gum line. That full coverage of your tooth allows for protection when you need more support than a filling offers. It also ensures that you can still bite and chew without creating new problems. Because we offer crowns made from different material types, we can make sure that you have the right functional as well as cosmetic support.
We Provide Crowns Made With Different Materials
There are different concerns that arise when treatment calls for a dental crown. The tooth in need of restorative dental work can affect how we proceed with care. The reason for this is that we need to make sure you have the support you need to absorb bite pressure through the years, but we also want to help you preserve your appearance. The good news is that we offer both more durable metal crowns as well as restorations made from substances that imitate your tooth structure.
Situations That Can Call For Dental Crowns
Crowns are often used to treat teeth affected by severe cavities. It is important that we provide the right restoration when decay seriously affects your tooth structure. After all, you need to feel comfortable applying pressure evenly when you bite, as a change in your jaw function can lead to chronic discomfort and more problems for your other teeth. With that said, concerns about stability and bite strength are also factors that affect how we take care of physically injured teeth. While we can sometimes address chips and cracks with cosmetic dental work, we may need to use a crown if we are concerned about how the damage will affect your health and quality of life.
Better Preventive Care Can Help You Avoid The Need For A Crown
You can make problems with advanced decay less likely to affect you when you keep up with regular dental exams. There are many benefits to doing so, as you receive thorough teeth cleanings as well as reviews that give updates about your overall oral health. During those reviews, you can learn about the presence of cavities before they are too large to be treated with dental fillings.
Talk To Your Maple Grove, MN Dentist About Treatment With A Dental Crown
With a custom dental crown, we can make sure that your tooth is fully protected, and we can take care to place a restoration that preserves your appearance by matching the look of your healthy enamel. If you would like to find out more, reach out to Elm Creek Dental in Maple Grove, MN, today at 763-416-0606.