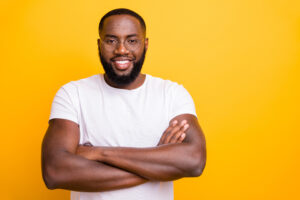 It may affect many people, but that does not mean it is easy to adjust to life with a dull, discolored smile. As your teeth become less bright, you can take on an appearance that makes you look both older and less healthy, which can generally hurt the way that others perceive you. The good news is that there are effective cosmetic dental procedures that can help with this concern. Your Maple Grove, MN dentist's office provides multiple services that can help. One option is to take home a whitening kit that is customized for your use at home. The in-office cosmetic services that we provide can help with both internal discoloration and problems with the shape, size, and condition of teeth.
Does The Color Of Your Smile Make You Self-Conscious?
Many individuals will grow self-conscious about the way they look when they smile and speak because they have concerns about dental discoloration. Often, this is the result of enamel stains that have accumulated over time and worsened to the point of becoming a noticeable issue. It can also be due to concerns related to changes within your tooth structure, which can be brought on by poor health, past dental trauma, and even certain medications. By identifying the cause of your trouble, we can recommend an appropriate course of action that will help you show off a brighter, lovelier smile once again!
You Can Take Home A Personalized Whitening Procedure
Although you do have the option of picking up a teeth whitening kit from a local grocery store or pharmacy, you can have a hard time seeing the results that you really want from this approach. Instead of depending on products that are less likely to remove stains that have settled below the surface of your enamel, talk to your dentist about taking home a personalized treatment. Our personalized whitening kits provide patients with potent bleaching agents and trays to make their application easier. When you apply this substance to your enamel on a daily basis, you can see impressive results, ending in remarkable overall changes!
What Else Can Cosmetic Dental Work Change About Your Appearance?
Through other cosmetic dental services that we provide in the office, we can help you take on a number of concerns about the way you look. Your options for care include treatment with porcelain veneers, which hide blemishes and damages, restore the shape and size of teeth, and even help to hide spacing flaws. Another option is to undergo a dental bonding and contouring procedure that takes on these issues in a more conservative manner.
Talk To Your Maple Grove, MN Dentist About Treatment Solutions For Dull, Discolored Teeth
Through treatment to fight dental discoloration, we can help you enjoy a considerable confidence boost, and we can help you make your smile notably brighter and more attractive! If you would like to find out more, reach out to Elm Creek Dental in Maple Grove, MN, today at 763-416-0606.