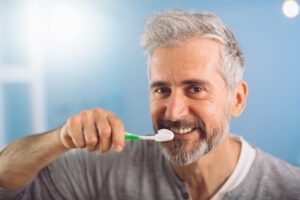 At the start of a new year, many of us will take time to think about how we can make meaningful improvements in our lives. While some of your resolutions for 2022 can involve larger goals, it is also a good idea to look at the small but important changes you should make. Smart adjustments to your oral health routine can lower your risk for problems with your smile, which means you can avoid health trouble and have an easier time preserving your appearance. Our Maple Grove, MN dentist's office is here to support you in your efforts. Every routine visit you schedule provides an important dental cleaning as well as a thorough review of your dental well-being, giving you protection as well as valuable information.
How Vulnerable Are You To Oral Health Threats?
Even if you have successfully avoided problems with tooth decay and gum disease for the past several years, you should think about how you can improve your oral hygiene routine. Enamel erosion and changes in your diet can change your vulnerability to certain issues, which means your current efforts may become less effective. Make sure you have a routine that involves thoroughly cleaning your smile, and that you watch your intake of foods and beverages that are high in sugar. You should also take advantage of regular dental exams and cleanings in order to keep your smile in great shape this year (and beyond)!
Taking Better Care Of Your Smile At Home
To keep your teeth clean and healthy, make sure you follow through with a consistent brushing and flossing routine. You should brush for at least two minutes twice a day, and you should floss every evening. Being thorough with both practices is important, as you should take care to reach areas that are difficult to access. Be mindful of how your diet can affect your well-being as well by limiting your intake of sugary and acidic products that can make your smile vulnerable to problems.
Take Advantage Of Consistent Oral Health Care
With your regular dental exams and cleanings, you are able to receive important feedback about your smile, and you receive protection in the form of professional care from your hygienist. Cleanings will remove any tartar deposits that formed since your last appointment, something that you are not able to do on your own. Your dentist will look carefully at your teeth, gums, and oral structures to see if there are any problems that might call for restorative dental work.
Your Maple Grove, MN Dentist Can Help You Maintain Your Oral Health!
Through the right commitment to oral health care at home and regular dental appointments, you can more easily protect yourself against a range of oral health threats! If you would like to learn more about how we can help you maintain a healthy smile, reach out to Elm Creek Dental in Maple Grove, MN, today at 763-416-0606.