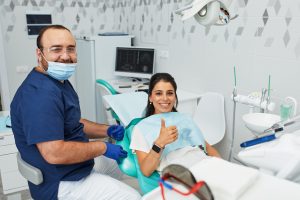 How can you tell if a problem with your tooth is serious enough to require a root canal? It can be difficult for you to know on your own what state your tooth is in, but there are signs and symptoms of advanced decay that you can experience. Problems with persistent pain or sensitivity, as well as changes like swelling or dental discoloration, can be a sign of serious trouble. At our Maple Grove, MN dentist's office, we can provide the restorative dental work that you require to resolve a problem with a serious cavity or injury. 
Is Your Cavity Really Serious Enough For A Root Canal?
There are many occasions where cavities are treated without root canal therapy. One way to lower your risk for advanced decay is to see your dentist on a regular basis for checkups. At these appointments, we can alert you to a problem with decay that calls for a filling, but is not yet severe enough to require more involved services. You should keep in mind that we are also able to offer preventive services in the form of teeth cleanings that lower your risk for future cavities.
Arranging Treatment For Advanced Dental Decay
When it is necessary to perform one, we can provide root canal therapy to stop an advanced cavity from doing any more harm to your tooth or smile. The work will involve the careful accessing of your tooth structure, which is followed by treatment to remove bacteria and infected tissues. Once this work is complete, we will take care of the tooth and prepare it for the placement of a custom dental crown. We should note that timing is important when it comes to your root canal. If you wait too long to undergo treatment, your problem can become so serious that you have to undergo a tooth extraction!
Restoring Your Tooth After Your Procedure Concludes
Dental crowns are capable of protecting teeth affected by injuries and advanced decay. At times when patients require these restorations, we will take care to provide one that is custom-made to provide the right kind of coverage, and to make sure that your smile is preserved. A dental crown is strong enough to provide meaningful bite support, meaning you will be able to preserve your natural dental function when you complete treatment.
Talk To Your Maple Grove, MN Dentist's Office To Schedule A Root Canal
Through root canal therapy, we can tend to an advanced cavity, one that causes painful problems within the tooth structure. Dealing with this problem will prevent potentially serious issues like tooth loss and the spread of an infection. If you need to address problems with your tooth, or if you have any other concerns about your oral health, reach out to Elm Creek Dental in Maple Grove, MN, today at 763-416-0606.