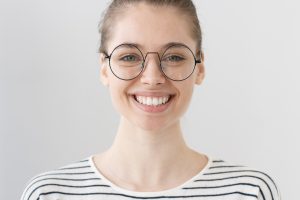 If you look in the mirror and cannot help but think about how you would like to change your smile, know that your Maple Grove, MN dentist can help you. We provide cosmetic dental services in addition to our work to both prevent and treat oral health issues. One option for treatment involves the placement of custom porcelain veneers, thin shells that take on many different flaws that affect the way you look. With these restorations made and placed, you can enjoy results that make your smile brighter, more uniform, and generally more attractive. Their durable design ensures that you can maintain your newfound confidence long after your procedure concludes!
How Can Veneers Help You Improve Your Smile?
What are your goals for cosmetic dental work? Many people come to their dentist with the hopes that they can take on several esthetic flaws. For example, someone who expresses interest in treatment can ask about how they can change the color of their teeth and also how they can hide problems with poor spacing. Another person may have concerns about teeth that are the wrong shape or size as well as concerns about the presence of chips or cracks in enamel. All of these issues can be addressed by your veneers, as these thin shells manage to fully cover the front surfaces of teeth and hide visible flaws.
Making Plans To Receive Custom Porcelain Veneers
We carefully measure teeth and do conservative preparatory work to make space for your custom veneers. This advance work can ensure that you see the results you want, and that your restorations make the right overall changes to your smile. The entire process of improving your appearance can take place over two appointments. This preparatory work is done during the first, while at the second your veneers are put in place and affixed to your enamel.
Discussing All Of Your Options For Cosmetic Treatment
Are veneers really the right treatment option for you? For many people, they can be the ideal solution, but not everyone will decide this is the one for them. However, you can find that another option, such as tooth bonding and contouring treatment, is more appropriate. This is a more conservative service, one that we can often complete in just one appointment.
Talk To Your Maple Grove, MN Dentist's Office About Receiving Porcelain Veneers
Through the placement of porcelain veneers, we can help you take on problems with your smile that have left you feeling less than confident. These slender restorations are capable of correcting many different issues, including trouble with discoloration, dental damage, and even matters that concern tooth shape, size, and alignment! For more information, reach out to Elm Creek Dental in Maple Grove, MN, today at 763-416-0606.