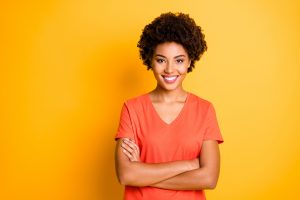 As you look over your smile, you may find yourself lingering on issues that make you less confident in your appearance. Whether you have one conspicuous flaw or multiple issues, you should know that cosmetic dentistry can help. Our Maple Grove, MN dentist's office provides patients access to different services capable of making their desired changes. For many people, porcelain veneers can prove effective for treatment. Their coverage makes it possible to address discoloration, problems with damage, and even concerns about tooth shape, size, and spacing! We can help you understand how this can treatment can benefit you, or determine if a different approach might be preferable.
Are You Unhappy With Your Smile?
Whether you have recent concerns around enamel erosion or dental discoloration, or you have always felt self-conscious about poorly aligned or misshapen teeth, it can be frustrating to live with a smile that feels flawed. Cosmetic dentistry makes it easier than you may realize to take on these different concerns. Even if you have multiple problems that you wish to address, you can find that one procedure is all that it takes to transform the way you look!
Using Veneers To Make Meaningful Changes To Your Appearance
With porcelain veneers, we can cover up different issues that make patients self-conscious about how they look. These slim, custom-made restorations can be permanently affixed to the fronts of your teeth. Because of their slender size, we can minimize changes to your tooth structure to complete treatment. When in position, they can make your smile appear brighter, hide any chips and cracks that are present, and even hide some problems with gaps or overlaps between your teeth.
Discussing Cosmetic Services That Are Available To You
While veneers are effective for people with many different smile concerns, they are not the only service available to you. You have alternative options, such as treatment via tooth bonding and contouring. Through this approach, we can make changes without affixing permanent restorations to teeth. Instead, we can reshape your enamel and use a composite resin substance to hide flaws. For those who just want to target stains that dull their enamel, we can recommend professional teeth whitening treatment.
Talk To Your Maple Grove, MN Dentist About Veneers!
Through treatment with porcelain veneers, our practice can help you put many different smile concerns behind you! We can use these restorations to make your smile brighter, more symmetrical, and generally problem-free! This is one of several approaches we can recommend to those who want to do something about their esthetic concerns. To find out more about cosmetic care, or to discuss our restorative and preventive services, please reach out to Elm Creek Dental in Maple Grove, MN, today at 763-416-0606.