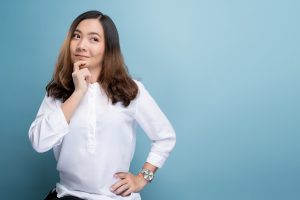 Your goal is clear – you want to show off a more attractive smile. Of course, while you know what you want, you may not know what needs to happen for you to see your desired results. For many people, the right smile improvements will address more than just one problem. For example, you may have concerns about the color of your smile while also worrying about wear and tear on your enamel. Because patients often have multiple cosmetic concerns, they can benefit from cosmetic treatment with porcelain veneers. At our Maple Grove, MN dentist's office, we are able to carefully place custom veneers in order to resolve a variety of problems with a person's appearance. In many cases, this one procedure can address all of the concerns someone has about the way they look when they smile!
How Do You Currently Feel About Your Smile?
Do you feel reluctant to show off your smile because your teeth look discolored? Are you bothered by wear and tear caused by teeth grinding? Do you have flaws with the shape or size that have always made you self-conscious? Through the appropriate treatment, these issues can be effectively addressed through cosmetic dentistry. Because these restorations can address more than one problem at one time, they can serve you well if you are looking to address more than one issue with the way you look.
What Porcelain Veneers Do To Improve The Way You Look
Porcelain veneers are made from a porcelain material that can match the color and texture of your teeth. When they are bonded in place, they manage to hide discoloration, problems with the shape and overall condition of teeth, and even some alignment issues! Before they are placed, your dentist will closely measure your teeth to determine the right shape and size for your restorations. At this initial visit, your teeth can also be carefully treated to make room for your restorations. The bonding process ensures that they will remain in position for the long term, effectively giving you a permanent smile improvement to show off!
What Other Treatment Options Are Available To Me?
While porcelain veneers are frequently used to address many different issues with the way a person looks, they are not the only cosmetic procedure that we offer. Dental bonding and contouring work allows us to address many of the issues that veneers address without the use of permanent restorations. For those patients who are only looking to deal with teeth stains, we can offer a professional teeth whitening treatment that removes stains often left behind by store bought whitening products.
Talk To Your Maple Grove, MN Dentist About Porcelain Veneers
At Elm Creek Dental, patients who worry about their appearance can learn about the different cosmetic procedures we provide. To find out more about porcelain veneers, or to discuss any other cosmetic procedures that we offer, call our dentist's office in Maple Grove, MN, at 763-416-0606.