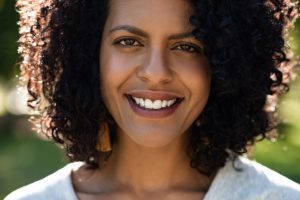 Any problem with your smile that calls for restorative dental work should be a priority. Over time, trouble with a cavity or physical injury will worsen, leading to more irreversible harm to your tooth structure and potential problems with an infection. When any oral health matter is serious enough to require a dental crown, you can count on your Maple Grove, MN dentist to fully resolve the problem by providing a durable, secure restoration. If you need to have work done on a tooth that is visible when you smile and speak, we can even provide you with a crown that successfully imitates your enamel to preserve your appearance!
Your Restorative Treatment Can Address Cosmetic Concerns
Restorative dental work is performed to address problems with your oral health, but it can also have positive consequences for your appearance. We can use a porcelain or zirconia crown to cap a tooth affected by advanced dental decay or physical trauma. These materials can closely imitate healthy dental enamel, which makes it possible for us to provide support without changing the way you look. These substances are still strong enough to offer necessary bite support, which can help you avoid possible difficulties with your dental health.
Receiving A Lifelike Dental Crown
Before you receive your dental crown, your dentist will perform preparatory work on your tooth and take measurements that determine what shape and size your restoration should be. The work performed at your initial appointment is done to ensure that your restoration fits properly and looks natural when in place. When you return, your crown will be set in place to provide lasting support for your tooth.
Consistent Dental Care Can Prevent Problems That Require Treatment
A combination of good habits on a daily basis and regular dental exams make you less likely to need restorative dental work in the future. We can take care of you during every checkup by providing early warnings about problems, and by performing thorough teeth cleanings that rid your smile of plaque and tartar buildup. Early detection and treatment for an issue with tooth decay can end with the placement of a dental filling, which is a more conservative restoration that leaves more of your enamel untouched.
Talk To Your Maple Grove, MN Dentist About Receiving A Lifelike Dental Crown
Through treatment at our Maple Grove, MN dentist's office, you can count on treatment for a potentially serious dental problem without experiencing a change to your smile. Our practice is here to help when problems arise, but remember that our preventive services also help you avoid potential oral health difficulties. If you have questions or would like to set up an appointment, reach out to Elm Creek Dental in Maple Grove, MN, today at 763-416-0606.