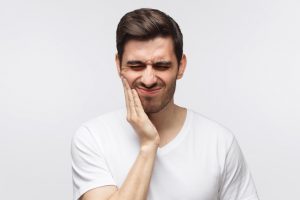 If you have unresolved problems with uneven jaw movement or stress on your joints and muscles, pain can be a regular part of your day. Of course, even if you are familiar with this discomfort, it can be difficult to become used to it. Are you simply stuck with pain and stiffness whenever you try to move your jaw? At our Maple Grove, MN dentist's office, we can work with you to correct problems that stem from TMJ disorder. A custom oral appliance can help you change your bite and reduce tension on your jaw joints and muscles. We can also help you resolve related issues that you have with teeth grinding.
TMJ Problems Can Cause Discomfort On A Daily Basis
Over time, issues with stress, teeth grinding, or poor bite movement can lead to mounting pain from TMJ disorder. If you are not working on treating this issue, it can become a daily problem for you, one that causes persistent discomfort that is hard to ignore. Rather than feel trapped by your pain, make an appointment with your dentist to learn about how the matter can be treated! When you do this, you can find that relief is more attainable than you expect.
Correcting Problems With Uneven Or Difficult Jaw Movement
After an evaluation, we can make plans to properly restore your bite function and oral health by treating TMJ disorder. With a custom-made oral appliance, we can offer relief by holding your jaw in a more comfortable and natural position, which can help you improve your bite movements and ease tension. In some cases, patients may need more help to correct problems with their bite. This can call for restorative dental work to address issues that make it harder for you to put pressure on some teeth.
We Can Also Address Problems With Teeth Grinding
Someone who has trouble with nightly teeth grinding can wear down their enamel, continue to put stress on their jaw, and raise their risk for serious dental damage. An oral appliance can also help with this problem. When in place, the guard will keep your teeth apart so that you can rest without worrying about the damage you are doing to your smile while you sleep!
Discuss Your Concerns About TMJ Disorder At Your Maple Grove, MN Dentist's Office
Through treatment for TMJ disorder, Elm Creek Dental can help you put struggles with daily aches and pains behind you! We work with patients to fully understand their condition, and we can provide oral appliance therapy and other services to provide lasting relief. If you would like to find out more, please reach out to Elm Creek Dental in Maple Grove, MN, today at 763-416-0606.