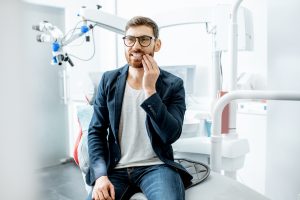 Someone who lives with TMJ disorder can experience discomfort whenever they attempt to bite, chew, or speak. They can also have frequent difficulties with headaches, as well as problems with nightly teeth grinding. If these problems sound familiar to you, a visit with your dentist can be productive. At our Maple Grove, MN dentist's office, we can help patients understand why TMJ problems create so much discomfort, and we can discuss treatment to put these issues behind them. For those who have struggled with teeth grinding – also known as bruxism – as well as jaw pain and stiffness, we can discuss services to restore damaged or worn teeth if necessary.
How Worried Should I Be About Jaw Pain And Stiffness?
When you start to endure issues connected to TMJ disorder, it can be difficult not to worry. After all, the problem can impact you in several ways. You may have a difficult time biting and chewing, or even speaking, because your joints are not moving in alignment, and you can have frequent problems with pain in your face and neck. Unresolved TMJ troubles can also lead to an increase in headaches. Your dentist can speak with you about these symptoms during a routine dental exam. With that said, if you suspect it is a problem for you, scheduling a visit to discuss it can be beneficial.
Relying On A Custom Appliance To Address TMJ Disorder
Through the use of a custom oral appliance, we can help ease tension that affects your face, jaw, neck, and head. When in place, it will change the position of your lower jaw to encourage less stress and better alignment for your joints. This can lead to a reduction in discomfort, and it can help you improve your bite function. In some cases, we can also discuss other dental services to address problems that interfere with your bite.
Are You Also Struggling With Teeth Grinding Issues?
Teeth grinding can interfere with your life by causing more stress on your jaw joints and muscles, and by damaging your enamel. This issue can both cause and be caused by TMJ troubles. For someone who struggles with this problem, we can discuss treatment. A custom guard will keep your teeth separate while you sleep, so nightly grinding and clenching will not impact your quality of life further. We can also make plans to treat you if you have chipped or cracked teeth.
Talk To Your Maple Grove, MN Dentist About Your TMJ Pain
Elm Creek Dental is ready to help people who are struggling with jaw pain, grinding and clenching, and other issues that can negatively impact quality of life. If you feel that these problems are impacting you, we can help! To find out more, please call our dentist's office in Maple Grove, MN, at 763-416-0606.