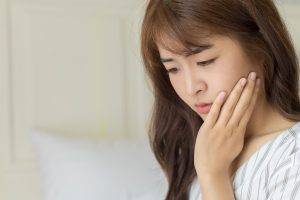 Do your jaw joints frequently make popping or clicking noises when you speak or eat? Has chronic pain and stiffness started to affect your jaw and face? These issues can be common among people with TMJ disorder. Unfortunately, they are not the only problems you face if this affects you! In addition to having difficulty moving your jaw comfortably, you can experience an increase in headaches, and you can even struggle with a teeth grinding habit at night that puts your teeth at risk. Our Maple Grove, MN dentist's office is prepared to help you deal with TMJ disorder. In addition to easing tension and joint problems, we can recommend treatment options if teeth grinding has negatively affected your smile.
How Can I Tell If TMJ Problems Are Affecting Me?
There are several common issues that affect people who deal with TMJ disorder, including:
Chronic headaches
Trouble opening and closing your jaw
Pain in your face, neck, and jaw
Popping or clicking sounds triggered by jaw movement
Nightly teeth grinding
Different issues lead to problems with teeth grinding. An injury that affects joint alignment, problems with your bite movement, or any other issues that may cause tension or alignment issues can be responsible. If you think TMJ disorder is affecting you, your dentist can provide a custom oral appliance to relieve trouble with ongoing tension and misalignment concerns.
Addressing Chronic Jaw Pain And Stiffness With A Custom Appliance
A custom-made appliance is able to ease tension on your jaw muscles, correct the alignment of your joints, and ease aches and pains connected to TMJ disorder. We can recommend appliance therapy if you make an appointment to discuss pain, or if a problem with your bite is detected during a routine dental exam. Worn at night, the appliance will hold your jaw in a more comfortable position. This corrective movement can ease tension and help improve your bite movement. In some cases, treatment can include restorative dental work on teeth that are not providing enough support for your bite. Custom dental crowns can both protect these teeth and make biting and chewing easier for you.
Do You Need Dental Work To Address Damage From Teeth Grinding?
If your TMJ troubles include a tendency to grind your teeth, enamel wear and tear is a serious concern. If this problem has affected the way you look, we can recommend cosmetic dentistry to help. For more significant damage, it can take restorative dental work to fully address problems.
Discuss TMJ Disorder With Your Maple Grove, MN Dentist!
Without the right treatment, TMJ disorder can continue to affect your oral health and quality of life. To find out how this issue can be addressed, call Elm Creek Dental in Maple Grove, MN, at 763-416-0606.