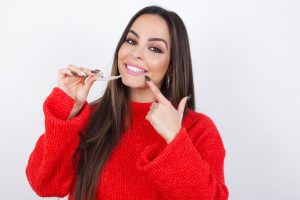 When you want to do something about uneven teeth spacing, you can find that more treatment options are available than traditional metal braces. While these appliances may be necessary for some, they are not the only way poorly aligned smiles can be improved. At our Maple Grove, MN dentist's office, we can provide options in the form of removable clear aligners. Both Invisalign and Red, White, And Blue clear aligners let patients discreetly resolve their problems with gaps and overlaps. In some cases, we can actually deliver results in a select number of appointments by recommending different cosmetic dental services.
We Can Provide Orthodontic Treatment With Custom Clear Aligners
Custom-made clear aligners can successfully move your teeth into the appropriate positions so that you can enjoy a uniform, properly spaced smile. To provide a personalized treatment experience, we take care to provide appliances that are made just for your treatment, which means they provide both a secure fit and the appropriate movements to create lasting cosmetic and oral health value.
What To Expect When You Begin Treatment To Straighten Teeth
You will receive a set of aligners to move your teeth into proper positions. The set will help you move progressively closer to a smile that is more symmetrical and attractive; while you should wear them throughout each day, you can remove them when you eat or clean your teeth. With Red, White, And Blue aligners, you can enjoy the discretion of clear appliances while also seeing results in less time, as these appliances are designed for those who are more focused on making changes for cosmetic reasons.
Choosing Cosmetic Treatment To Improve Your Smile
In some cases, it may be possible for us to proceed with a cosmetic procedure instead of with orthodontic treatment. Porcelain veneers can hide gaps and overlaps in just two appointments, which means you can be closer to a more symmetrical appearance than you realize. Veneers are capable of taking care of more than just spacing problems, as they can also make teeth look brighter, hide damage, and help correct problems with misshapen teeth.
Talk To Your Maple Grove, MN Dentist About Straightening Your Teeth
Your Maple Grove, MN dentist is ready to support patients who have concerns about poorly aligned teeth. We can provide different options for orthodontic treatment that will make your corrective work easier (and more discreet) than you might think possible. We can also discuss a range of cosmetic services that can lead to valuable smile improvements. Remember that our office is here to help whether you want to discuss, restorative, preventive, or cosmetic treatments that are available. If you would like to find out more, reach out to Elm Creek Dental in Maple Grove, MN, today at 763-416-0606.