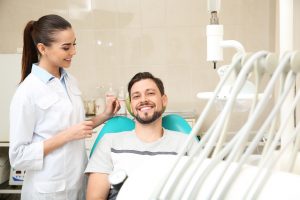 Restorative dental work needs to take place to stop a cavity. As frustrating as it may be to learn you need to see your dentist for a procedure, the complications from untreated decay can lead to more issues, which can become difficult to ignore. The good news is that when you schedule treatment at our Maple Grove, MN dentist's office, you can receive a lifelike restoration that protects your tooth while keeping your smile's appearance unchanged. We can actually provide dental fillings that imitate healthy tooth structure and bond directly to your enamel to provide a secure, lasting form of support!
How Dental Decay Leads To Permanent Damage
As you brush and floss each day, you fight the oral bacteria that cause decay to form on teeth. If you have a good routine in place, and you see your dentist for regular dental checkups, you can protect yourself against problems that lead to cavity formation. Unfortunately, many people will have at least one problem with a cavity in their lifetime. After it forms, a cavity will do permanent harm to your enamel, harm that worsens gradually until the appropriate restorative dental treatment is performed.
Restoring A Tooth With A Dental Filling
Dental fillings provide a conservative treatment option for patients. Your dentist will apply a composite resin substance directly to the area where a cavity formed. Once applied, this material will bond directly to your enamel. By doing this, we keep you safe against further troubles with infection by keeping bacteria out, and we provide more functional support for your tooth. In addition to giving you cosmetic support and protection against further troubles with harmful microbes, treatment can ensure you are still able to bite and chew without issues.
What Else Can Your Dentist Do To Restore Your Tooth?
If it is necessary to do so, we can provide more than just a dental filling to take care of your smile! After decay causes internal problems, it becomes necessary to treat you by providing root canal therapy. The root canal removes bacteria and infected tissues; after this work is done, your pulp is sealed to protect it, and your dentist will begin plans to restore your tooth with a custom dental crown.
Talk To Your Maple Grove, MN Dentist About Receiving A Filling!
While our practice is here to help patients avoid the kinds of problems that call for restorative treatment, we understand that these issues can occur. For someone in need of cavity treatment, we can provide a custom dental filling that protects their tooth while preserving their smile. If you have questions for us about our services, or if you wish to make an appointment, please call Elm Creek Dental in Maple Grove, MN, at 763-416-0606.