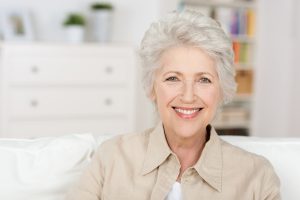 How much support can you really expect a dental prosthetic to give you? Will it be easy to keep your restoration in place throughout the day, even as you rely on it when biting and chewing food? Dental implants help people with incomplete smiles gain back more than just confidence in their appearance. They effectively act like artificial roots that can secure a prosthetic appliance. With their support, people who have undergone restorative dental work to replace teeth can bite, chew, smile, and speak with restored comfort and confidence! Our Maple Grove, MN dentist's office can talk to you about the benefits of including dental implant placement in your plans to regain your full smile.
How Dental Implants Fit Into Plans For Prosthetic Dental Work
A dental prosthetic replaces a tooth – or multiple teeth – a patient is missing. With the support of dental implants, these appliances can remain securely in position, and they can even provide functional support that allows you to more comfortably bite and chew food. These artificial roots are placed directly into your jawbone, and will heal over a period of time. During that recovery, your jawbone fuses to the post (or posts) to provide a stable hold. In addition to helping you by supporting your replacement teeth, implants will support also support your jaw health, and they help neighboring teeth stay in place.
The Benefits Of Implant Support
Dental implants take on responsibilities that are typically filled by your natural teeth roots. Those responsibilities include supporting neighboring teeth, and holding restorations so that they can absorb biting and chewing pressures. They also serve you by stimulating your jawbone and preventing a loss of density in the bone. Jawbone deterioration becomes a problem after tooth loss, as the stimulation from teeth roots conveys a message to your body to move nutrients to the bone.
Can Dental Implants Support Larger Restorations?
Dental implants can help those who need to deal with isolated tooth loss issues, but they are also relied on to help those who are missing several teeth, or even a full row of teeth! We can affix a dental bridge or denture to a series of strategically placed implants. By using implants in these situations, we can help patients regain the ability to enjoy a wider variety of foods than they could when their bite function was limited. We also provide lasting support against problems with jawbone deterioration.
Talk To Your Maple Grove, MN Dentist About Dental Implants
Patients who want to do something about tooth loss can talk to Elm Creek Dental to learn how dental implants can help! If you have questions about the role that implants play in prosthetic dental work, or if you have any other concerns about your oral health that we can address, please call our dental office in Maple Grove, MN, at 763-416-0606.