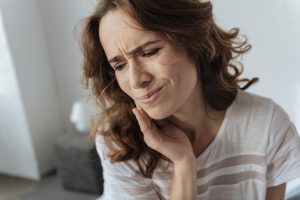 Is a persistent problem with tooth pain or sensitivity starting to upset you? If so, make sure your dentist knows what is happening and has a chance to evaluate you! The discomfort you feel could be due to an infection that has formed and begun causing problems within your tooth. This is not something that will go away on its own. If too much time passes, you can wind up losing your tooth! Your Maple Grove, MN dentist's office is prepared to help you if you think your toothache might be related to an infection. After an evaluation, we can determine if it is necessary to perform root canal therapy to restore the tooth's health. If the problem has gone on for a longer period of time, or if you are having trouble tolerating the pain you feel, you should know that our dental practice does take emergency appointments.
Ignoring A Toothache Can Lead To Oral Health Complications
If you decide not to seek treatment for a toothache, you can continue to experience pain, and you may end up requiring a tooth extraction to stop an infection from spreading and creating more issues for your health. Unfortunately, once a cavity forms or an injury occurs, a tooth will remain in a vulnerable state until the appropriate restorative dental work occurs. This is why acting quickly in response to pain or sensitivity is important. When you take your discomfort seriously, you are less likely to suffer complications from a neglected problem.
What Your Dentist Can Do If Your Tooth Is Infected
To stop an infection from spreading any further, and to stop the problem you are currently experiencing, your dentist can perform root canal therapy. Through this treatment, bacteria and infected tissues are removed before the pulp (your tooth's inner chamber) is sealed and a dental crown is put in place. Patients sometimes feel uneasy about the idea of a root canal, fearing that it may be a long or uncomfortable treatment. It is important to remember that without this service, your tooth's health will continue to deteriorate, and that this service can fully address the issue that has been responsible for your discomfort.
A Custom Restoration Will Protect Your Tooth After Treatment
After root canal therapy is performed, work will need to occur to properly restore your tooth. With a custom dental crown, a tooth that has undergone advanced restorative treatment can stay fully protected. In addition to preventing further physical damage or infection, a crown will give a tooth enough support to let you apply bite pressure with it.
Talk To Your Maple Grove, MN Dentist About Your Toothache
Elm Creek Dental is prepared to help patients who are bothered by issues with dental pain or sensitivity. In fact, we can even bring you in for an emergency appointment if you are worried about a persistent toothache! To find out more, call our dentist's office in Maple Grove, MN, at 763-416-0606.