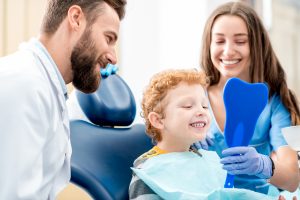 Even though February, which is National Children's Dental Health Month, is almost over, it is always important to remember your child's dental health. At Elm Creek Dental, we want little smiles to be healthy, and, while we can help keep them healthy in our office, it is important that you help them at home, too. In today's blog, your Maple Grove, MN, family dentist will share advice for helping keep little smiles healthy at home, and information about how we can help in our office.
Model Good Habits
Children learn their oral hygiene habits by watching their role models. While you can teach them good habits, the best way to get them to continue those good habits is to keep up with your dental hygiene. Some important points to make sure you hit are:
Brushing your teeth twice a day with a fluoride toothpaste
Being sure to brush thoroughly, getting to your molars in the back and the backs of your teeth
Brushing your teeth for two minutes each time
Storing your toothbrush properly so that the bristles can fully dry
Flossing daily for a thorough clean
Following this advice will improve your dental health as well as your child's, as they will learn and practice your good habits.
In Our Office
At Elm Creek Dental, we want our patients of all ages to feel comfortable and receive excellent service. The ADA (American Dental Association) recommends that every person attend a visit to the dentist every six months, and that includes your children! When you bring your child to the dentist for a checkup, our friendly staff will conduct a professional exam of their teeth, making sure to check every nook and cranny for signs of decay, cavities, and any potential development issues. Just like how a family doctor will check to make sure that your child is growing and developing properly, your family dentist will check your child's teeth and jaw development to make sure that everything is progressing as it should. If we find anything wrong, or any areas that could potentially be of concern due to the first signs of decay, we may suggest a restorative treatment like a filling to treat a cavity or a preventative treatment like a dental sealant to prevent food particles and sugar from getting stuck in deep, hard to reach grooves in your child's molars that are at high risk for cavities, or a fluoride treatment to strengthen the enamel on their teeth. We will also clean your child's teeth professionally to give them a good head start on continuing their dental hygiene routine at home.
Visit Us Today
It is important for children as young as three years old to visit the dentist twice a year to ensure healthy development of their smiles. So, if it is time for your child's six month checkup and cleaning, continue the good habits learned at home in our office by contacting our team at Elm Creek Dental in Maple Grove, MN, by calling 763-416-0606.