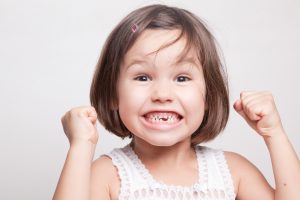 Certain dental office experiences can feel intimidating and clinical, especially for younger patients. The wrong care environment can lead patients to feel uncomfortable and nervous about attending future appointments. This can have a detrimental effect in the long-term for children. A bad experience as a child may lead them to become a reticent patient as an adult. That may mean missed appointments and compounding oral health issues in the future. How do your children handle the dentist? The right care environment can make a huge difference.
Are Your Children Going to the Dentist
The first question you should ask yourself is whether or not your children are attending dentist appointments. It's recommended that you begin taking your children to the dentist's office around their first birthday, or when their first tooth erupts. As your child grows, they should be making biannual trips to the dentist's office for checkups and cleanings. Checkups ensure that your child's teeth and jaw are growing properly. Cleanings help to prevent cavities and strengthen enamel when necessary. Make sure your child is going to the dentist.
Your Children Will Better Handle a Positive Dental Care Environment
Clinical settings like a doctor's or dentist's office can be intimidating for children, so it's important that your child's dentist eliminates these barriers when possible. Your child will handle a positive care environment much better than an overly clinical environment. Ideal children's dentist's will be approachable and educational during visits, helping your child have a better experience, and hopefully to take ownership over their own oral health. These positive associations at a young age can go a long way toward their future oral health.
Your Child's Dentist Can Provide Preventive and Restorative Care
With proper home care and regular visits, your child will likely be able to avoid major oral health issues. Preventive measures from your dentist — like dental sealants and fluoride rinse — can help protect your child's teeth from bacteria, especially as they are leaning to brush. If your child does develop a problem like a cavity, their dentist can provide restorative care as well. Repairing cavities now can prevent gum disease and keep the structure of your child's teeth and jaw healthy for the future.
Choose Children's Dentistry at Elm Creek Dental
The care environment at Elm Creek is built around positivity and friendly staff members. We want your child to feel good about their visits to the dentist. We provide preventive and restorative care for any issues that your child may experience as their teeth continue to grow. Our goal is to ensure your child's current oral health, and to provide them with care throughout their lives. To schedule your child's dentist appointment, contact Elm Creek Dental in Maple Grove, MN by calling 763-416-0606.