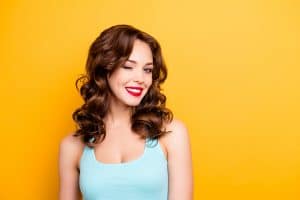 Are you aware of the cosmetic dentistry options that are available to help you create the smile you want? There are several cosmetic procedures that don't require much overhead or treatment to effectively improve the appearance of your teeth. Cosmetic options like veneers, bonding and contouring, whitening, and invisible aligners can straighten, shape, and brighten your teeth to give you a smile that you're proud of. When you feel good about the state of your teeth, you're more likely to share your smile with the world! Learn about all of your options in today's blog.
A Number of Cosmetic Dentistry Options Can Shape Your Smile
One of the major cosmetic upgrades that you may want to make to your smile involves the alignment and size of your teeth. Invisible aligners are a great option to straighten teeth that have become misaligned. This cosmetic option improves the appearance of your smile, and also makes your teeth easier to clean. Plus, invisible aligners don't stand out in your mouth like traditional braces. Dental bonding and contouring are excellent options for teeth that are strange sizes. Dental bonding allows your dentist to add volume to teeth or fill in grooves and gaps between teeth. Contouring gently shapes dental enamel to achieve the same effect.
There Are Also Cosmetic Dentistry Options to Brighten Your Smile
For many adults, the wear of time and lifestyle habits can leave your teeth a little less than sparkling. You may want to brighten your smile, and there are options for you to do so. Teeth whitening bleaches the stains from your dental enamel. The whitening offered through your dentist is often much more effective than over-the-counter whitening. Porcelain veneers are thin sheets of dental porcelain bonded to the surfaces of your teeth. These veneers can be made to account for misshapen teeth, but they can also be used to whiten. This treatment is effective for staining that happens beneath the enamel.
Maintaining an Ongoing Relationship with Your Dentist Is the Best Way to Get the Right Care
How do you know which cosmetic treatment is right for you? You may have an idea of how you'd like to improve your smile, but you'll still need the help of your dentist. By maintaining an ongoing relationship with your dentist, you can be sure that your dentist understands your personal situation. That personal level of care will allow your dentist to formulate a treatment plan that works to improve the areas you want to improve.
Elm Creek Dental Provides Cosmetic Treatment for Your Smile
The entire Elm Creek staff takes pride in getting to know patients and offering personalized care. If you'd like to discuss cosmetic dentistry options, talk to Dr. Carter about how to improve your smile. You'll be able to create a customized care plan that gives you the smile you're after. Schedule a cosmetic consultation by contacting Elm Creek Dental in Maple Grove, MN at 763-416-0606.