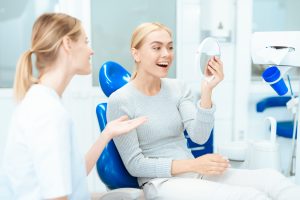 Cosmetic dentistry can create a brand new smile for patients without a huge treatment timetable. If you've never explored cosmetic dentistry options, you may be surprised by the changes that they can create, and how minimally invasive the treatment can be. To utilize the benefits of different cosmetic dentistry treatments, you first have to understand what is possible. Each cosmetic treatment can be used to create a different type of effect on your smile. It's time to learn more about bonding, whitening, gum contouring, and porcelain dental veneers.
Dental Bonding and Contouring Shape the Appearance of Your Teeth
Many people want cosmetic improvements to some aspect of their smile, but many people don't want a long treatment timetable that involves major overhauls. Dental bonding and contouring is perfect for these individuals. Dental bonding and contouring gently add to and shape the dental enamel that is already present on your teeth. By making small adjustments to the shape and size of your teeth, your dentist can create a balanced, even smile that looks great. These two treatments can be completed quickly, and they don't require significant changes to your teeth.
Teeth Whitening Brightens the Appearance of Your Smile
If it's the shade and appearance of your smile that you'd like to change, professional teeth whitening is the answer. Professional teeth whitening through your dentist often delivers results that exceed what you will experience with an over-the-counter product. Professional whitening kits can still be used at home, on your own schedule. That gives you the freedom to create your own treatment timeline. Typically, after just a few weeks of treatment, you'll notice a brighter, whiter smile.
Gum Contouring Shapes Your Gums
Some people have an excess of gum tissue in their mouth that distracts from the appearance of their teeth. Not everyone's gums are evenly distributed, meaning that in some cases your gum tissue may cover more of some teeth than others. Gum contouring can gently shape this tissue to give you an ideal smile.
Porcelain Dental Veneers Can Cover It All
If you need adjustments to the shape and size of some teeth, a more symmetrical smile, and a  brighter appearance to your teeth, porcelain dental veneers can cover it all. This cosmetic treatment utilizes the existing structure of your teeth to support thin shells of custom-fabricated dental porcelain for a perfect smile.
Find the Right Cosmetic Care at Elm Creek Dental
Knowing which cosmetic treatment will work for you is all about understanding your options — and working with your dentist. At Elm Creek Dental, you'll create a custom smile plan to help give you the teeth you've always wanted. Schedule an appointment at Elm Creek Dental in Maple Grove, MN by contacting the office at 763-416-0606.