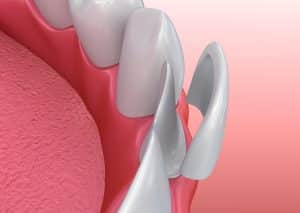 In our previous blog, we took a look at teeth whitening and how our professional system can remove discoloration. In today's blog, we want to examine another cosmetic treatment, but one that can address a variety of common esthetic complaints. How do veneers transform a smile?
Try Our Quiz on Porcelain Veneers
True or False: Each one will be custom-made.
True or False: We use lifelike materials to create them.
True or False: We can address various issues with a tooth's shape and shade.
True or False: They are easy to maintain.
Answer Key
True. We will first prepare the teeth by removing a thin layer of enamel. We will then take detailed impressions of the teeth, which is used by experts at a dental lab to design and create the new restorations. This process ensures the veneer blends with the smile. The patient then returns for a second visit, during which we make any adjustments necessary before placing the veneer with a powerful bonding agent.
True. They are made from ceramic, a strong material that is stain-resistant and able to mimic the appearance of tooth enamel. We can also shade them to ensure they blend with the smile. We want them to look natural and match your other teeth.
True. We can use them to mask teeth stains, repair chipped teeth, reshape malformed teeth, and close gaps between the teeth. They can also correct the appearance of minor misalignment. Being able to correct so many different issues with one restoration can allow us to transform your smile.
True. You should take steps to brush your teeth twice a day and floss your teeth before bed. You also need to have your teeth cleaned twice a year to remove plaque and safeguard your new restorations. If you have any questions about restorations, or if you want a cosmetic consultation, then please contact our office today.
Ready to Try Cosmetic Dentistry?
We can use cosmetic treatments, such as porcelain veneers, to help you enjoy a beautiful smile. To learn more, or to schedule a consultation, call Elm Creek Dental in Maple Grove, MN today at (763) 416-0606.