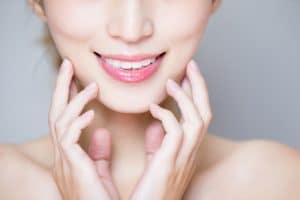 When you think about your overall oral health, it's easy to focus on your teeth. You brush your teeth, and your teeth are prominently featured in your smile — why wouldn't you focus on them? Caring for your teeth is important, but your overall oral health incorporates so much more than just your teeth. It includes other oral tissues like your gums, and the bone structure of your jaw. When you need dental treatment, like dental implants, the health of these other components becomes crucial. Do you know whether or not your jaw is healthy enough for dental implants?
Your Jaw Bone Needs to Be Able to Support the Surgical Implant
Why does your jaw bone strength matter when it comes to dental implants? Implants are surgically inserted into your jaw bone. If this bone is brittle or weak, it may not be able to withstand the surgery. What can cause your jaw bone to become weak? Specifically, periodontitis is a concern for patients when it comes to jaw bone health. Periodontitis is the degradation of your jaw bone, caused by infection. When you contract gum disease, the bacteria causing the condition need to be removed quickly, or they will begin to damage your jaw bone itself.
Dental Implants Can Help Strengthen Your Jaw Bone in the Long Term
The good news is that if your jaw can support dental implants, it will likely strengthen your jaw bone in the long term. Your teeth and jaw work together in concert — each rely on the pressure and structure of the other to hold together. When you lose a tooth, the jaw bone in this area no longer experiences resistance. It can also cause your other teeth to begin shifting into this gap. This can cause an irregular bite that creates even more wear on your jaw bone, compounding your issues. That's why receiving treatment right away is for the best.
If Your Jaw Is Healthy Enough, Dental Implants Provide the Best Experience
Beyond the jaw-fortifying qualities, dental implants provide the best functional experience of all dental prosthetics. Since implants are surgically set in your jaw bone, they're strong and can be used like a natural tooth. You won't have to worry about them shifting, slipping, or degrading over time (so long as you take proper care of them). With a dental crown in place atop your dental implant, you'll be able to comfortably chew food like you did before tooth loss.
Receive Dental Implants from Elm Creek Dental
Your overall oral health is important, especially in the wake of tooth loss. Our team at Elm Creek Dental will help you choose a dental implant option that works for you and allows you to get your smile back. Schedule an implant consultation by contacting Elm Creek Dental in Maple Grove, MN at 763-416-0606.