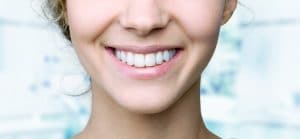 Your teeth are a prominent part of your expressiveness. When you smile, laugh, or react to something, you often reveal your teeth. If you feel good about the state of your smile, you probably feel comfortable in social situations. If you have crooked teeth, staining, or some chips and cracks, you may feel self conscious. If you'd like to improve the state of your smile, then you should work with your dentist to find a cosmetic solution. By working with your dentist, you can create a custom smile plan that gives you the beautiful teeth you've always wanted.
Cosmetic Dentistry Offers a Range of Solutions
You may be able to point to the thing that you want to change about your smile, but you may not know how to address the problem. Cosmetic dentistry offers a number of solutions to address a wide range of problems. If you feel uncomfortable with teeth staining, then a whitening treatment (available as a take-home kit) can help you. If you have small cracks or chips in your tooth, dental bonding may be able to remove these blemishes. Misaligned teeth? Invisible aligners allow you to discreetly straighten them and give you an even smile.
Make Sure Your Teeth Are Healthy Before Cosmetic Treatment
Before you can begin to develop your cosmetic dentistry plan, you'll need to make sure that your teeth are healthy. If you have any issues with cavities, or one of your teeth is physically damaged, your dentist will need to create a restoration to repair your tooth. Then you'll be ready for a cosmetic smile plan.
For the Best Cosmetic Results, Work with a Dentist Who Knows You
The level of care and attention to detail that your dentist demonstrates can tell you a lot about the type of experience you're going to have. If you work with a dentist who takes the time to get to know you personally, they're going to be better able to accomodate your needs. Every smile is different, and the combination of cosmetic treatment that you need to look your best is going to be specific to your situation. When you work with a dentist who gets to know you, you can feel good about the smile plan that you put in place.
Build Your Custom Smile Plan at Elm Creek Dental
Dr. Carter takes pride in getting to know patients personally because it helps him provide a higher level of care. If you're interested in cosmetic dentistry treatment, Dr. Carter will first offer a complimentary consultation session during which you'll build a smile plan together. With a treatment plan in place, you can get excited about the brand new smile you'll have coming. To schedule your cosmetic consultation, contact Elm Creek Dental in Maple Grove, MN at 763-416-0606.