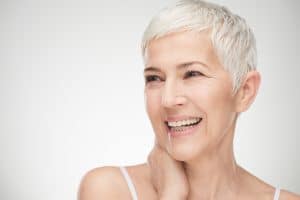 The smile of your dreams may be easier to achieve than you think. Almost everyone has some sort of minor adjustment they'd like to make to the appearance of their teeth. If you've never really considered cosmetic dentistry before, now is the time to explore your options. There are all kinds of cosmetic solutions that deliver excellent results with with minimal overhead. Options like whitening, veneers, bonding, and contouring all offer ways to achieve your dream smile. Working with your dentist allows him or her to help you decide what's best for you.
Professional Whitening Treatment Creates a Whole New Shine for Your Smile
Professional teeth whitening through your dentist can create transformative results for your smile. While over-the-counter whitening treatments can sometimes let you down, professional whitening is a great way to reinvent your smile. Professional whitening can often be performed at home, on your own schedule. By using whitening trays and a bleaching agent, you can remove stains and give yourself a bright, white smile in just a few weeks time.
Veneers Are a Dream Smile that You Can Receive in One Day
Dental veneers are an excellent cosmetic option for many patients because they can correct for so many cosmetic issues. Veneers are thin sheets of dental porcelain which your dentist will fabricate to create an even, balanced smile. Your dentist will then bond the veneers to the surfaces of your existing teeth. This treatment can account for irregular shapes and sizes of teeth.
Dental Bonding Adds Volume and Shape to Teeth
Dental bonding is a simple solution for teeth that are noticeably smaller than other teeth, or have a strange shape to them. Bonding is a process by which your dentist uses dental resin to add shape and volume to your tooth. Bonding can also be used to fill any unsightly grooves or surface cracks that your teeth may develop over time.
Dental Contouring Gently Sculpts Tooth Enamel to Create an Ideal Smile
Dental contouring is related to dental bonding, but instead of adding volume to a tooth, your dentist can shape the existing enamel to create a pleasing appearance. If one of your teeth has a jagged edge, or is noticeably larger than the surrounding teeth, your dentist can use contouring to shape that tooth and create a more symmetrical smile.
Elm Creek Dental Has Your Cosmetic Solution
Finding the right cosmetic solution for your ideal smile is a matter of working with your dentist. Your dentist has the expertise and knowledge to evaluate your personal situation and recommend the right cosmetic treatment. At Elm Creek Dental, the staff truly get to know patients and their needs. Make an appointment for a cosmetic consultation at Elm Creek Dental in Maple Grove, MN by calling 763-416-0606.