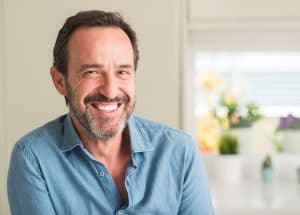 Growing up, you learn that you have one set of adult teeth, and that once they're gone, you can never get them back. While it's true that most adults only ever receive one set of mature teeth, it doesn't mean that you can never experience a full, beautiful smile after suffering tooth loss. Tooth loss can happen to you due to a physical accident or tooth decay. Thanks to dental implants though, you can say hello to a brand new smile. The lifelike appearance and superior function of dental implants makes them the best choice for recovery with prosthetic dentistry.
There Are Three Areas that Dental Prosthetics Should Address
There are three major concerns that any sort of prosthetic dentistry solution needs to address for you. One, does the dental prosthetic recreate the function of your missing tooth? If you can't bite and chew food with the replacement tooth, it isn't actually doing you a whole lot of good.
Two, does the dental prosthetic recreate the appearance of your original tooth? If you end up with a tooth replacement that stands out immediately when you smile, you may not feel confident showing off your pearly whites to the world.
Three, does the dental prosthetic last? You don't want to have to address the same problem again and again.
Dental Implants Create a Brand New Smile That Lasts
Dental implants address all three of these concerns with a comprehensive solution. Dental implants are surgically placed in your jawbone, so they are stable and provide a full functional recovery. Due to their titanium build, they are also incredible durable. Finally, after you receive your dental implant base, your dentist can custom fabricate a dental crown that matches the appearance of your surrounding teeth and sits atop the implant.
Elm Creek Dental Has Dental Implant Options to Help You Recover
Losing your adult teeth doesn't have to mean a life of hiding your smile and avoiding crunchy foods. The team at Elm Creek Dental will help you recover with a lifelike dental implant. Talk to Dr. Carter and his staff to learn how a dental implant can help you get back to comfortably eating and smiling. To make an appointment for a consultation, contact Elm Creek Dental in Maple Grove, MN at 763-416-0606.