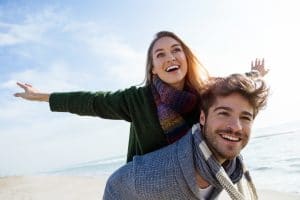 Everyone likes to feel in control of their situation, however some things you just have to deal with. Many people assume that flaws in their smile — due to misalignment, staining, and asymmetry — are problems that they just have to work around. However, that's not the case. You and your dentist have an array of powerful cosmetic treatment options at your disposal. Cosmetic dentistry — through veneers, bonding and contouring, whitening, and invisible aligners — can reshape and perfect your smile. You're in control.
Choosing the Right Cosmetic Treatment Is a Matter of Addressing Problems
Cosmetic dentistry is a solution station for people who want to improve the appearance of their smile. When you feel good about the status of your teeth, you're more likely to feel comfortable in social situations, and who doesn't want that? Choosing which cosmetic solution is right for you is about addressing your particular needs.
Dental Veneers Address a Wide Range of Cosmetic Deficiencies
Dental veneers are made from thin sheets of dental porcelain. Your dentist can craft a homogeneous, well-proportioned smile that essentially fits over your existing teeth. The veneers can account for any misshapen teeth or strange gaps between teeth.
Dental Bonding and Contouring Shape Your Existing Teeth
Dental bonding and contouring actually work with your existing teeth. Through dental bonding, your dentist can add volume to your tooth with biocompatible resin. This can eliminate sharp edges or unsightly grooves on the surfaces of your teeth. Contouring shapes away existing enamel. This can help make a particular tooth more uniform.
Professional Whitening Gives You a Radiant Smile
Teeth whitening through your dentist is more likely to produce the results you're after. Many people are unsatisfied with the experience of over-the-counter whitening. Your dentist has access to better treatment options that can truly brighten the appearance of your smile.
Invisible Aligners Discreetly Straighten Your Teeth
One of the biggest hang ups that patients have with traditional braces is that they're big, noticeable, and uncomfortable. Invisible aligners are made with plastic, and aren't bound to your teeth. That means more discretion and more comfort.
Explore Cosmetic Dentistry Options with Elm Creek
Elm Creek Dental is your home for any dental service you're after. If you'd like to take control of your smile with cosmetic dentistry, talk to the team at Elm Creek to see which treatment is best for you. To make your appointment for a complimentary consultation, contact Elm Creek Dental in Maple Grove, MN at 763-416-0606.