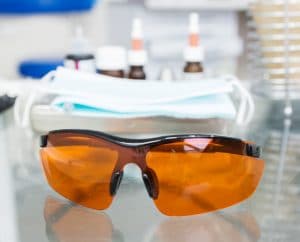 New technology often makes our lives easier and better. There's no exception when it comes to dental care. Contemporary tools and techniques allow your dentist to deliver more comfortable, thorough treatment. You may already be aware of how fillings and dental crowns work, but have you heard of laser dentistry? Laser dentistry utilizes new technology to reduce pain and recovery times for patients. By utilizing lasers, your dentist can actually decrease your risk of infection and work more precisely in a number of areas within your mouth. This is modern dentistry at its best.
Laser Dentistry Can Be Used on a Variety of Soft Tissues in the Mouth
Dental lasers not only offer an effective treatment option for teeth, but for other soft tissues in your mouth. Your gums can benefit from the use of dental lasers. If you suffer from gum disease or periodontitis, dental lasers will help your dentist manage this condition. Deep cleaning, also known as "scaling and root planing," is an effective procedure for combating gum disease. With the use of a dental laser, your dentist can perform the procedure to remove plaque and diseased gum tissue without scarring or bleeding.
Laser Dentistry Often Removes the Need for Anesthesia
When it comes to restorative dentistry, one of the great sticking points for most patients is the perceived pain. Patients don't want to feel discomfort, but they're also uncomfortable with the idea of using anesthesia. The precision provided by dental lasers allows your dentist to remove damaged and decayed tissue before performing a treatment like placing a dental crown or veneer. However, unlike with traditional care methods, you'll need little-to-no anesthesia in these cases, making for a more comfortable experience.
Elm Creek Dental Uses Modern Technology for Your Convenience
Dr. Carter and his staff want to create a comfortable care environment that benefits the patient as well as the dentist. By embracing contemporary technology like dental lasers, the Elm Creek Dental staff can provide a better care experience. If you're ready for a comfortable trip to the dentist, contact Elm Creek Dental in Maple Grove, MN at 763-416-0606.